Long read
Geo-data providing added value to the property insurance sector
Author
Dr Pooja Mahapatra, Global Lead - Geospatial
Speed and accuracy are essential to efficient disaster recovery. In the wake of Hurricane Ian, Fugro was the first to survey the devastation from the air. We delivered high-definition Geo-data within 24 hours of each flight, enabling our intelligence partner to provide accurate Geo-data insights quickly to the property insurance sector.
Following a destructive weather event, property insurers need fast access to accurate information, to work out where and how to target their efforts. Affected communities and businesses need rapid support and financial aid, to mitigate their losses, repair homes and local infrastructure, rebuild lives and restore livelihoods.
However, the information-gathering process is often slow and inefficient: insurance claims are usually dealt with on a 'first come, first served' basis; there is a finite pool of loss adjusters available, and it may be unsafe or impossible for them to visit claimants' properties immediately.
This traditional 'boots on the ground' approach to damage assessment is ideal for the minutiae. But when it comes to providing the rapid overview that insurers need, it's woefully inadequate.
Geo-data – what are the benefits?
Climate change is causing extreme weather events to become more frequent and severe. That's why the property insurance sector is keen to adopt a radically different approach to damage assessment – and Geo-data lies at the heart of it.
In September 2022, Hurricane Ian caused widespread devastation in the US, destroying several of Florida's cities, causing around $113 billion of economic losses and claiming more than 160 lives.
The Geo-data acquired during our subsequent aerial surveys proved immensely valuable to the US property insurance sector. Here are some of the reasons why:
Rapid mobilisation – Our survey experts were the first to gain access to the airspace, hours after the hurricane. This was enabled by our high degree of preparation - well-maintained sensors and aircraft, advance research to determine optimal logistics, pulling aircraft away from other projects, and skilled personnel. And our highest priority is project safety planning in a highly dynamic environment.

High-definition aerial imagery – the resolution of the imagery we acquired was around 15 cm strip imagery, which was the most efficient at covering a wide area very quickly.  

Reliability – our aerial imagery aligned perfectly with the existing satellite-derived equivalent, providing a mapping product rather than just a visual product, tailored to this specific application. The high positional accuracy really helped in decision making on ground.

Speedy delivery – we processed and delivered the Geo-data to our intelligence partner within 24 hours of each flight.

Flexibility – while airborne, when new information was received from teams on the ground, we adjusted our flight plan accordingly in near 'real' time through continuous communication with the client. Compatible software – our Geo-data complemented our intelligence partner's existing imagery and data sources perfectly, so was immediately available for them to create and share vital industry intelligence.

Fast support to local communities and businesses – our short turnaround time helped many insurers to pay out quickly and make a meaningful difference to affected communities.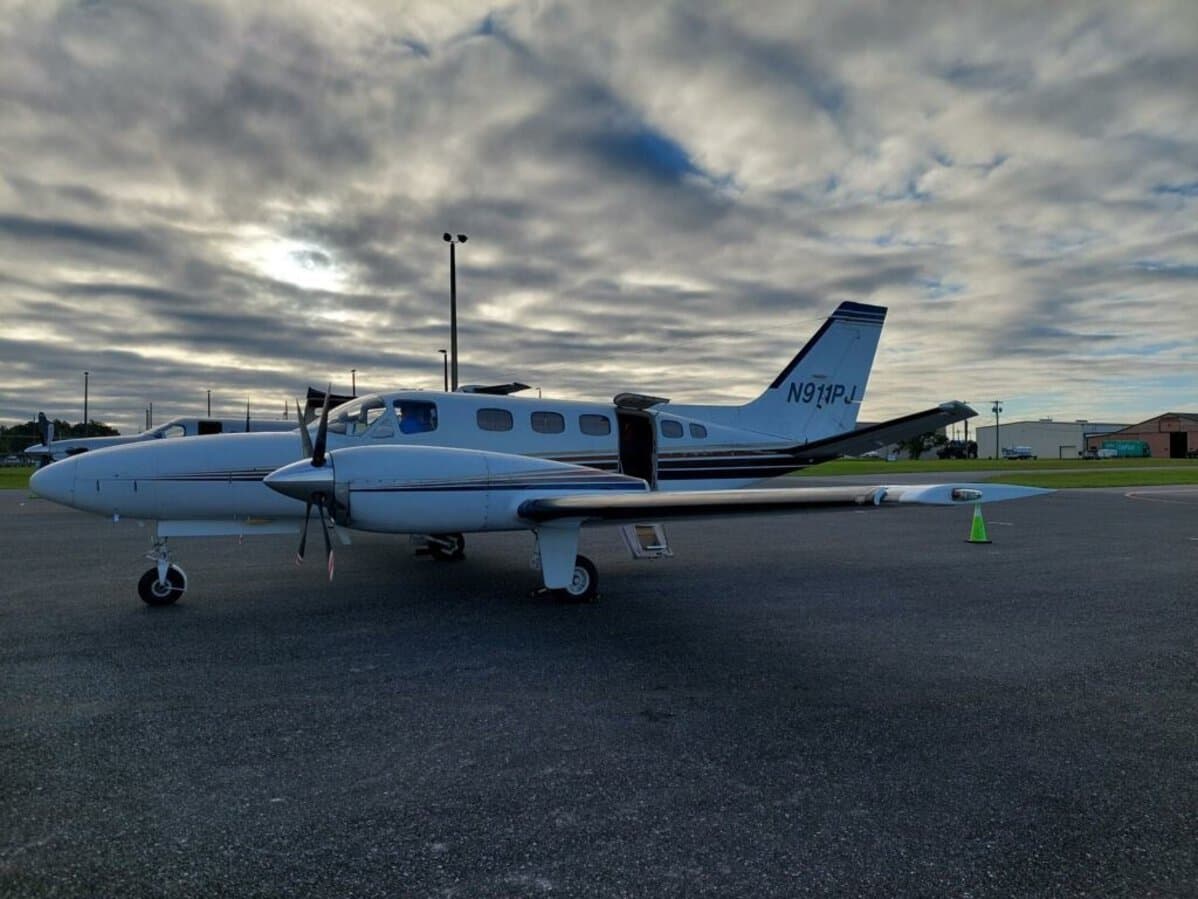 Fugro aircraft and crew ready to fly at the crack of dawn, as the first to access the airspace post-event
Partnership approach to aid disaster recovery
Our partner, McKenzie Intelligence Services (MIS), provides intelligence to the insurance sector through a user-friendly geospatial platform, the Global Events Observer (GEO). We worked together in the aftermath of Hurricane Ian.
MIS Head of Sales and Marketing, Daniel Grimwood-Bird, said: "After a catastrophic event, insurance is the hand that can lift a community back onto its feet. That's why I keep working in insurance. It's also why the sector has bought so heavily into Geo-data."
MIS picked Fugro as a partner because we have the infrastructure – fleet, sensors and personnel – that they know they can rely on. Fugro responded very quickly to Hurricane Ian and were the first survey company up in the air.
Being able to communicate with 'real people' at Fugro – rather than an anonymous tasking platform – proved incredibly valuable. It meant that as new information came through, MIS were able to change plans 'on the fly', to focus on where the disaster response was needed most.
A visual comparison with previous imagery inspired MIS with great confidence in the accuracy of our Geo-data. It was immediately clear to MIS that this was a mapping-quality product that would give property insurers the certainty they needed, moving them from 'we think' to 'we know'.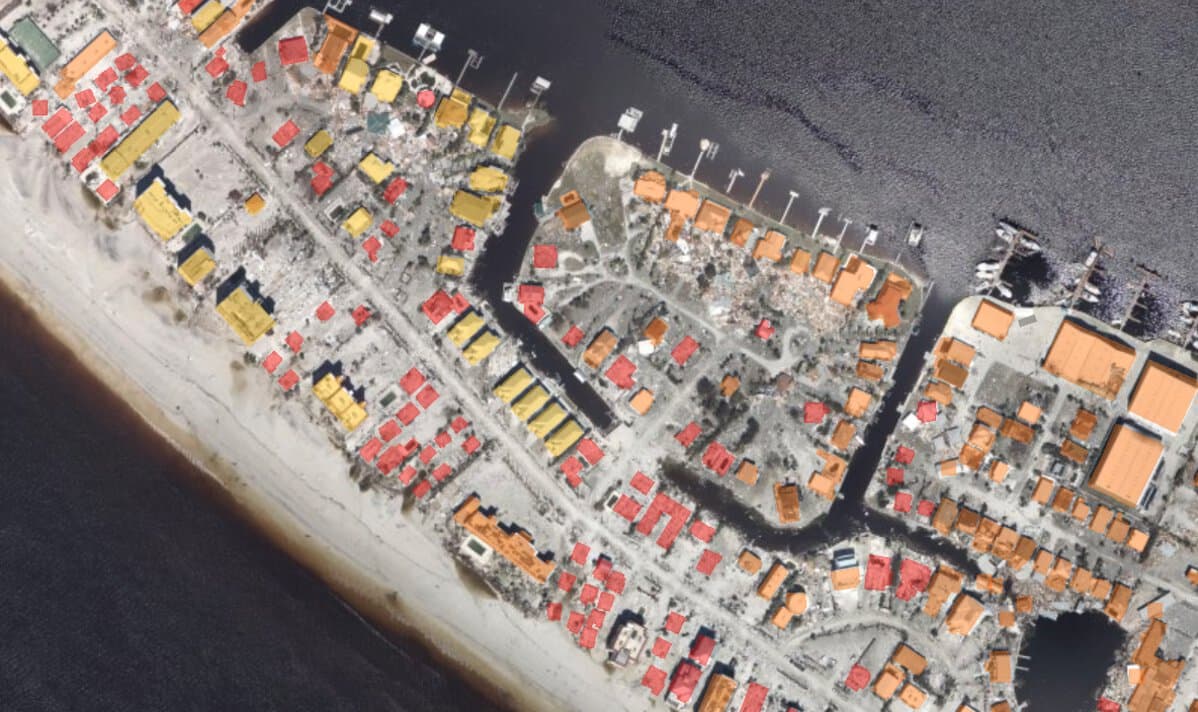 MIS Building-level damage assessment over Fugro 15cm imagery
Next steps
Daniel's experience of partnering with us in the aftermath of Hurricane Ian means that he's now keen to explore new joint opportunities.
He shared: "For Fugro to have acquired Geo-data on such a scale, in high definition and within such a short timeframe, is astonishing. It's unheard of. We partnered with Fugro for those capabilities – they take industry problems and then innovate to fix them."
MIS know that Geo-data will play a key role in disaster modelling going forward. It will help to predict the damage from wind and flooding, increase the accuracy of underwriting models and inform future planning decisions.
In general, the longer the period between an insurance event and the settlement of a claim, the higher the likelihood of litigation and the many additional associated costs.
MIS intelligence, derived with the help of our Geo-data, allowed many insurers to start paying out claims within days of Hurricane Ian. So the ultimate beneficiaries, of course, were the individuals, families, communities and businesses who were able to access swift financial support and make an early start on rebuilding their lives.
To find out more about Geo-data and how it adds value to the property insurance sector, contact Dr Pooja Mahapatra, Global Lead - Geospatial
"For Fugro to have acquired Geo-data on such a scale, in high definition and within such a short timeframe, is astonishing. It's unheard of. We partnered with Fugro for those capabilities."
Daniel Grimwood-Bird
Head of Sales and Marketing, MIS
Did you know?
In the United States, Hurricane Ian was responsible for at least 156 fatalities, 66 of which were considered deaths directly caused by the storm.

Hurricane Ian caused an estimated $112.9 billion worth of total damage in the United States, making Ian the third-costliest United States hurricane on record.

An estimated 9.62 million people lost power in the United States due to hurricane Ian between 28 September and 1 October 2022.

Beyond the US, more than 100,000 homes were damaged or destroyed in Cuba due to hurricane Ian.

Fugro were the first to access the airspace post-event, and collected 15 cm aerial imagery over more than 750 sq km in Florida, delivering within 24 hours of flying.