Long read
Transitioning to a new operational model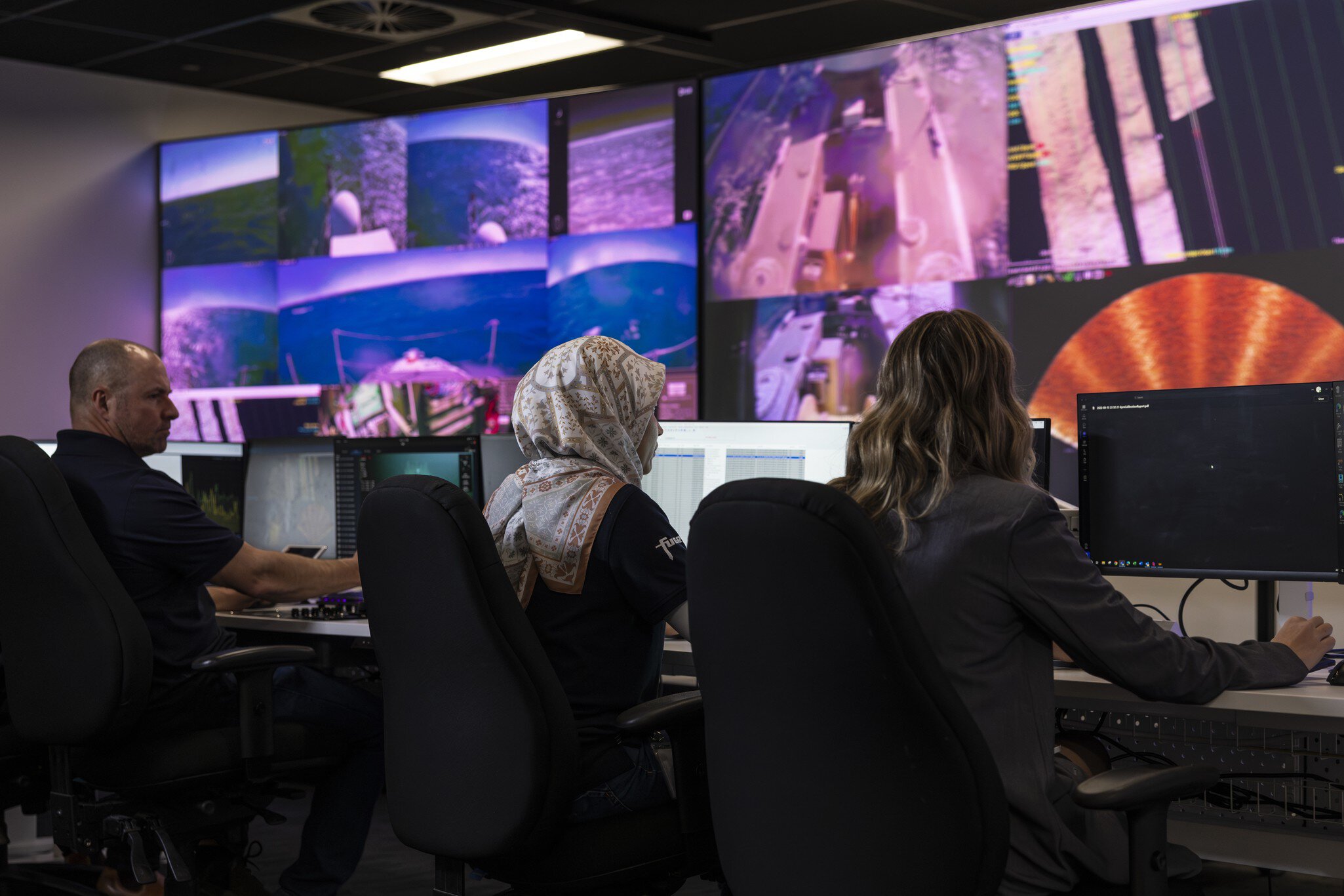 Author
Mike Liddell – Programme Director Future Workforce
The marine industry is undergoing a significant transformation due to recent technological advancements, leading to a growing trend of automation and remote management of numerous offshore tasks. This safer, more efficient and greener approach is also greatly enhancing employee wellbeing at Fugro. In fact, we've made it the cornerstone of our new operational model. Putting our people first.
The future of marine operations will revolve around a mixture of conventional crewed vessels and uncrewed surface vessels (USVs). On conventional vessels, enhanced automation and remote operations will facilitate a decrease in the overall crew size and enable the use of smaller, more environmentally friendly vessels.
Our two newest vessels, Fugro Resilience and Fugro Resolve, are a case in point. These modern DP2 vessels are being converted for geotechnical drilling operations and will have a significantly reduced fuel consumption, but also a reduced overall accommodation capability. A DP2 vessel has a high level of dynamic positioning capability. They are equipped with redundancy in their dynamic positioning systems, which means that they have backup systems in case of a failure in the primary system.
Many geophysics and inspection, repair and maintenance (IRM) activities that gather digital data can now be achieved from USVs through automation and remote operations. However, the need for conventional crewed vessels will remain into the medium term as there are still certain activities that require human interaction, like handling of seabed soil samples.
A new way of working offshore
In the near future, conventional vessels will have a different operational model that includes:
Automated data flows – data will be automatically pre-processed and uploaded using satellite technology for processing in the cloud;

Increased use of robotics – this optimises the launch and recovery of equipment. It also improves data quality on system control tasks, such as operating a winch controlling a tow fish;

Leaner offshore crews with a broader skillset – as many operational activities will be automated or managed remotely, crew numbers will be smaller. Offshore job roles will expand with increased focus on repairing and maintaining equipment, with data acquisition activities being undertaken remotely.
What's driving this transition?
There are five key drivers:
Technology – remote operations, automation and smarter software solutions are improving survey activities. Connectivity has been transformed, thanks to developments in satellite communications and the proliferation of low-earth-obit networks enabling the rapid, secure transmission of large volumes of data from vessel to shore in near real time;

Market growth – the rapid expansion of the offshore wind sector has increased demand for geophysical and geotechnical surveys. Meanwhile, the war in Ukraine has prompted many nations to ramp up oil and gas exploration for access to a more secure energy supply;

Skills shortages – market growth has exerted additional pressure on an already challenging labour market. Our eight onshore remote operations centres (ROCs) are boosting the productivity of our technical experts. When at sea, they could only support one project at a time. But now their expertise can be shared across multiple projects simultaneously;

Sustainability – smaller and more carbon-efficient vessels will help us reach net zero by 2035;

Safety – working from a desk in an ROC is a lot safer than working on a moving vessel. By reducing crew numbers, we decrease the risk of an accident at sea and can improve the overall wellbeing of those on board. For example, overcrowding and cramped conditions can be a source of stress.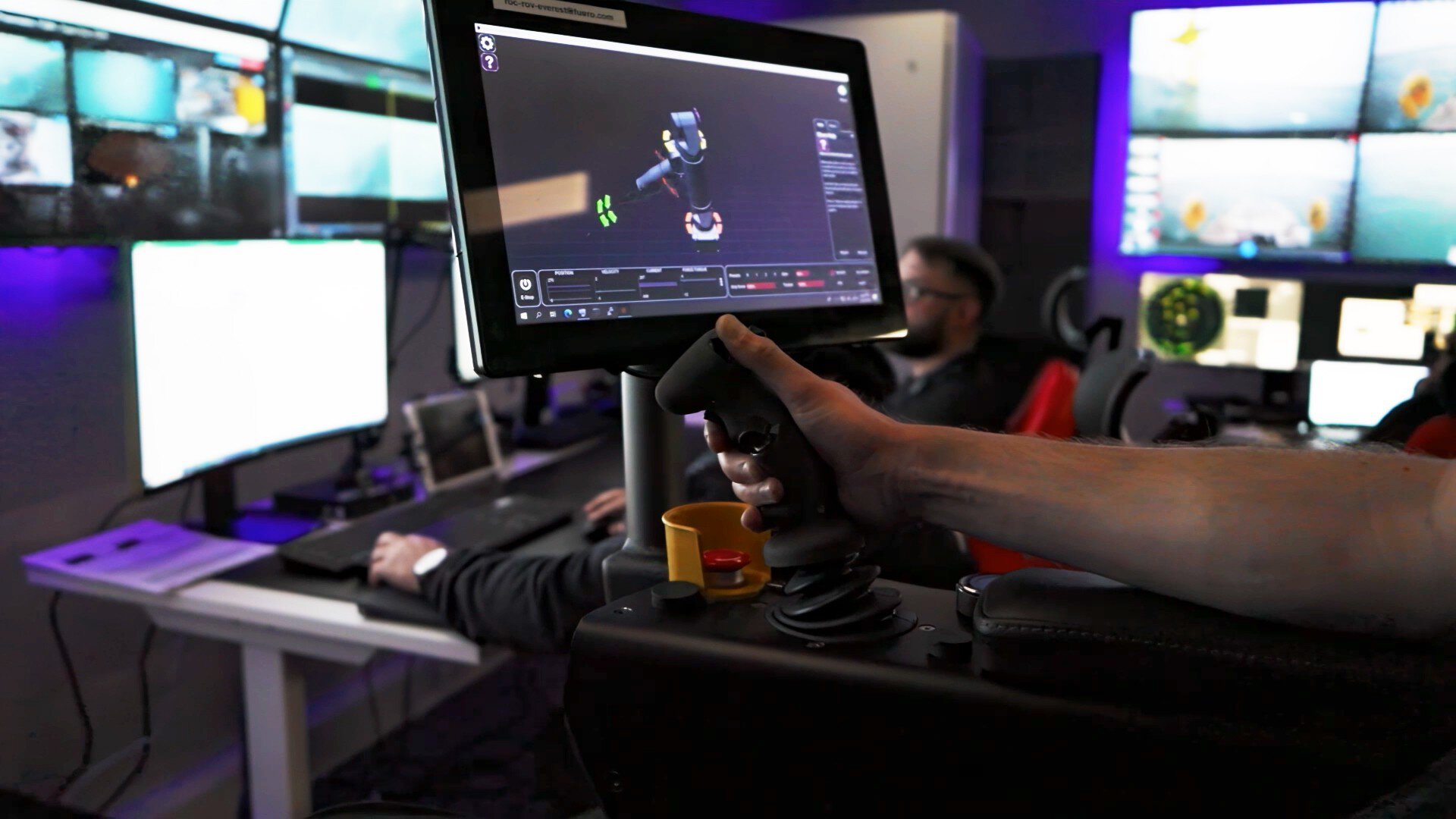 Our team undertaking a remote inspection of an offshore wind farm in Aberdeen
Our strategy for the future workforce
In recent years, finding professional people who are interested in working offshore for up to 200 days at a time has proved increasingly difficult.
Graduates still want to complete a good-quality training programme and the Fugro Academy ensures that our graduate recruits can hit the ground running. But today's graduate recruits want more. A fulfilling role, first and foremost, but not at the expense of a healthy work-life balance.
To accommodate the lifestyle needs of the new generation of graduates, for certain disciplines we no longer recruit them to full-time offshore positions. In fact, some won't work offshore beyond an initial training or familiarisation period. Our graduates can be based at a ROC, a Fugro office or offshore as part of a hybrid working arrangement. This also helps improve the diversity of our workforce as we can now offer onshore positions for those who cannot work offshore due to homelife or medical conditions. ROCs also provide an onshore re-entry route for those that have previously left the offshore industry.
We provide regular rotations in our ROCs, with a working pattern of two weeks on, two weeks off (three weeks on, three weeks off in some locations). Ideally, ROC team members live within a radius of 30 km of their workplace, to minimise their daily commute. Schedules are agreed well in advance. Staff greatly appreciate this because it makes it easier to see family and friends, and to book family holidays.
While we are further optimising our survey processes based on the changes in technology and data connectivity, we recognise that our future success depends on the skills, talent and dedication of our existing highly skilled and experienced people.
Our team members reflect on their transition from offshore to onshore work, highlighting the opportunities that come with remote operations
People come first
We aim to shift the industry standard in the marine sector by ensuring that our employees advance in their careers while also enjoying a healthy work-life balance. Working in a ROC offers a range of advantages. It provides an enhanced work environment, allowing employees to manage their tasks from the comfort of their own space. This environment fosters a better work-life balance, reducing stress and improving overall job satisfaction.
ROCs often leverage advanced technology, providing employees with the tools they need to excel in their roles and can lead to increased productivity. Working remotely enables access to a global talent pool, allowing for a diverse and skilled workforce, and offers a dynamic and efficient work experience with a strong emphasis on adaptability and modern technology.
As we continue to refine our operational processes in response to technological advancements, we recognise that the foundation of our success lies in the expertise and dedication of our current highly skilled team. Their contributions will be invaluable as we navigate this exciting future in marine operations.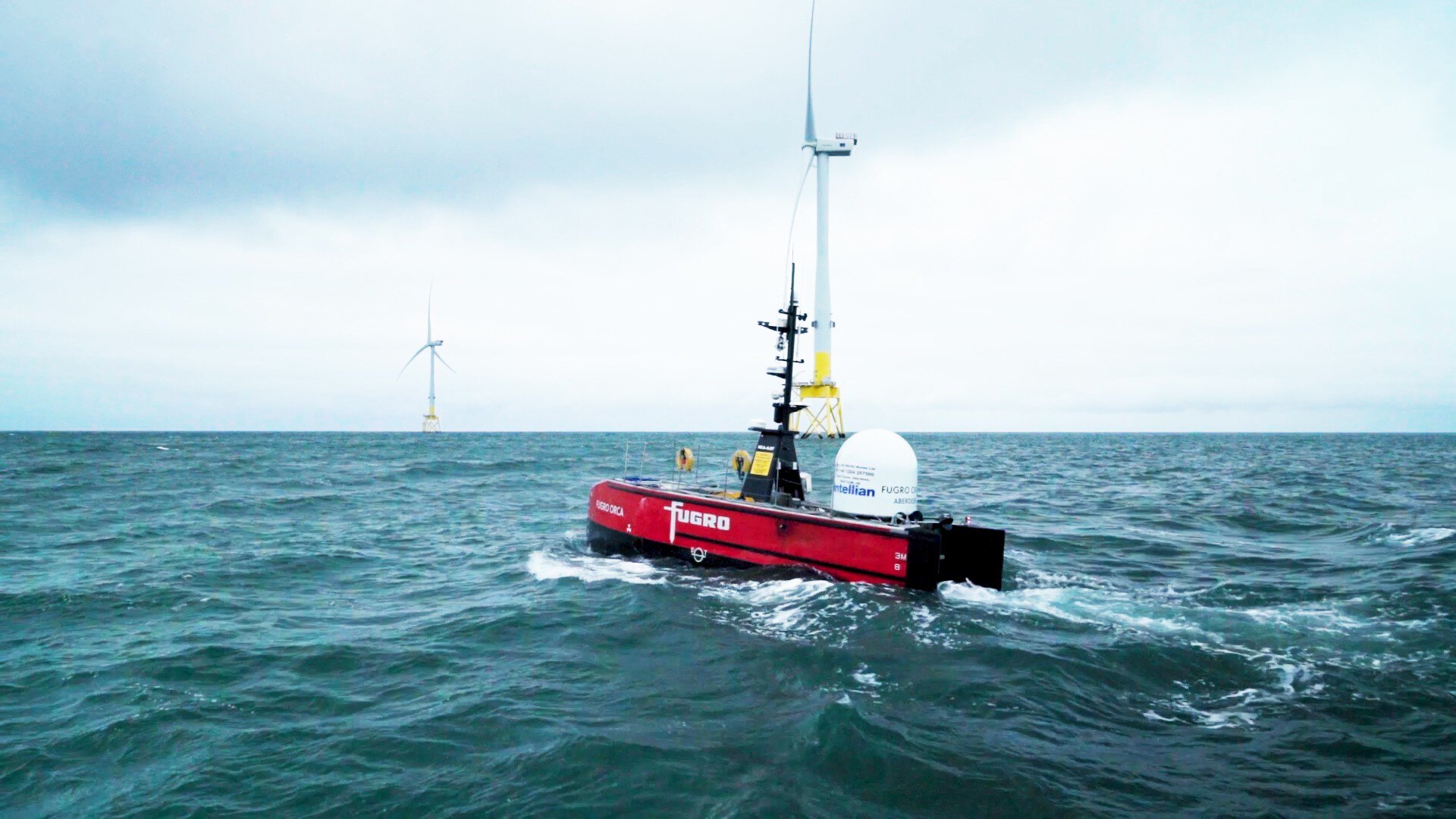 The future is remote and autonomous
Remote and autonomous technologies are the future of marine operations and at the forefront of our vision. We are continuously developing and scaling up our growing fleet of advanced technologies to deliver safe, sustainable and reliable solutions for your offshore projects.
Find out more