Fast, accurate Geo-data to inform offshore wind foundation design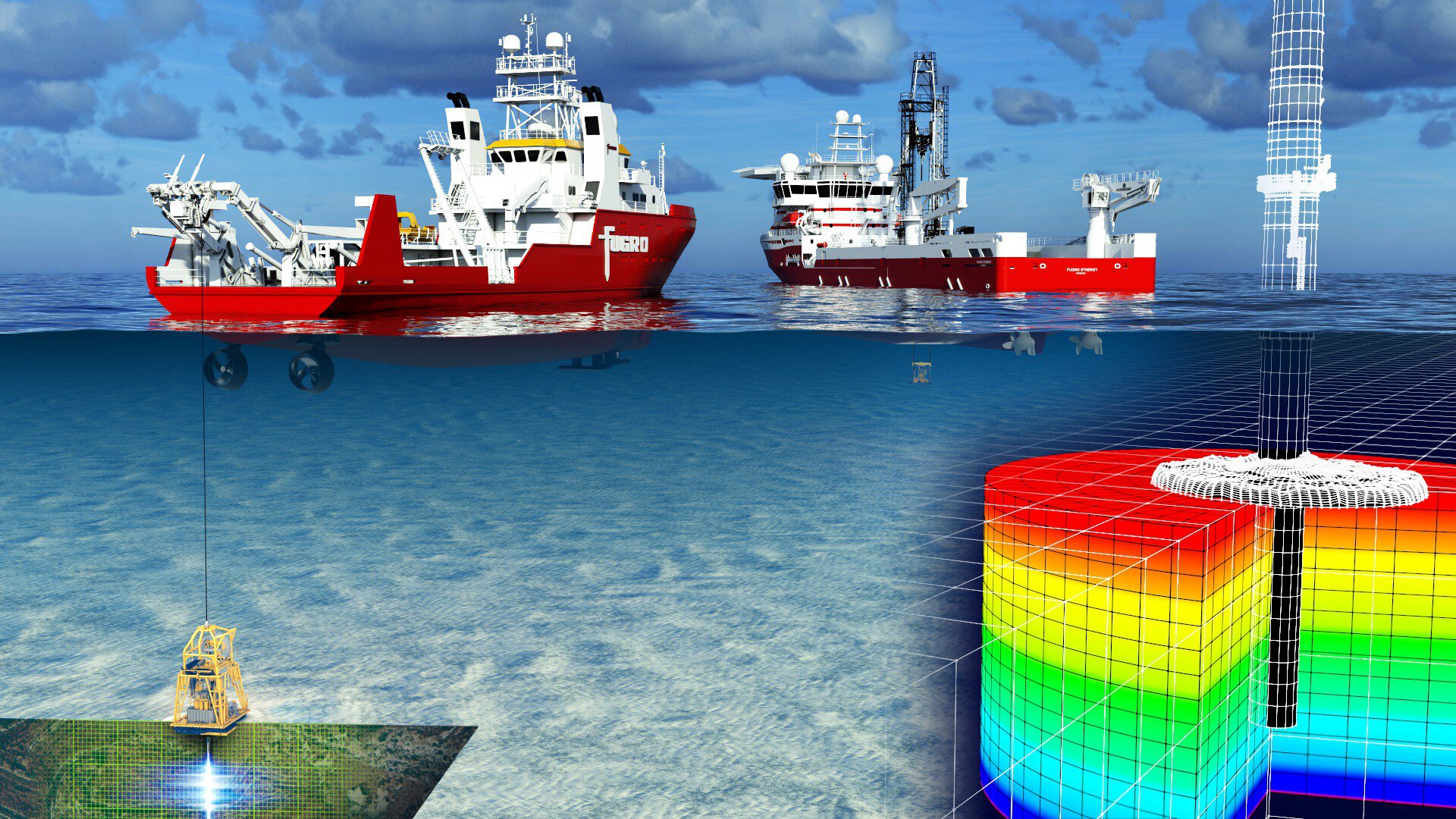 Author
Max Daarnhouwer - Global lead - Foundations and geotechnical services
Collecting high-quality Geo-data to inform the design of offshore wind turbine foundations is becoming an increasingly complex task. Faster ways to acquire these datasets are crucial to achieving the desired global roll-out pace of offshore wind.
Industry challenges
The offshore wind industry has been hugely successful in reducing its levelised cost of energy (LCOE) to the point where it can compete with other electricity sources. According to the Global Wind Energy Council the annual number of new offshore wind installations needs to increase five-fold to deliver on the 1.5-degree Celsius climate goal set in the Paris Agreement. To achieve this, many governments are now incentivising the accelerated development of offshore wind farms, to encourage developers to reduce their project timescales from seven years to five, or less.
The early acquisition and analysis of high-quality Geo-data is essential to offshore wind farm developments because it informs reliable, cost-effective foundation designs and robust installation methods. Developers typically follow an iterative process, which includes assessing and bidding for new project sites followed by conceptual and then detailed design studies. Each consecutive phase requires a deeper understanding of the site's conditions, which necessitates more detailed data-acquisition and analysis. This complex process has become more challenging in recent years due to the increasing size of wind farms and the heterogeneity of sites they occupy. As the size and generating capacity of new sites continue to grow, so does the need for data acquisition. This leads to increasing demand for vessels, vehicles, equipment, and expertise to deliver what developers need safely, efficiently and to the required specification. It's a delicate balancing act which requires skill to get right.
Consultancy-led scoping
Once a site is won, developers aim to start acquiring data as soon as possible. Unfortunately, this often leads to the scoping of their site investigations being hastily compiled, which introduces additional risk to the project. The acquired data may prove to be incomplete, inadequate or irrelevant, resulting in incorrect engineering decisions and expensive delays as remedial measures are implemented. The challenge is compounded when additional factors are considered, including:
The rise of floating wind – the offshore wind industry is still learning about floating wind, which is being developed in different site conditions to fixed-bottom wind farms and relies upon different technology types, meaning that different approaches to site investigation and ground modelling are needed.

The globalisation of offshore wind – developers are venturing further offshore, exploring new geographies with unfamiliar soil conditions, and limited local expertise to help understand them. Fugro is one of only a few companies who have a proven track record in many of these emerging markets, and we can apply our operational experience and local knowledge to help developers optimise the scope of their projects to achieve project objectives.

The rapid development of new technologies – the rate of technological change continues to increase, with new ideas constantly emerging. For example, using our in-house innovation capability, cutting-edge equipment and enduring curiosity, we provide clients with sound advice and practical support.

The scarcity of expertise – many developers struggle to find sufficient expertise to support their projects, which can hinder decision-making and result in substandard execution, particularly site investigations which are an expensive and time-consuming activity.  Fortunately, we've supported the evolution of 70% of all wind farms developed around the world to date and continue to build our expertise and understanding of client needs as we explore new sites and new frontiers.
Our consultants can provide invaluable scoping support across the data acquisition phase to accelerate wind farm development and design timelines. They can help clients overcome their project constraints by defining tailored work scopes and deliverables whilst recommending suitable strategies and methods.
Our foundation consultancy and Geo-data expertise reduces installation risk and enables reliable and efficient offshore wind turbine and substation foundation designs for your offshore wind farm development
Innovations
In recent years we have successfully introduced several in-house innovations to support offshore wind farm developers reducing development time and mitigating foundation-related project risks. Some examples are detailed below.
Deeper CPTs with minimal manual handling
Building a ground model for foundation design usually requires up to 200 CPT's. Fugro's SEACALF® MkV Deep Drive® is an advanced seabed cone penetration test (CPT) system with enhanced soil penetration capacity, and delivers data faster compared to conventional methods.
Improved ground modelling for better decision-making
Seismic inversion is an innovative technology to determine a volume of geotechnical parameters from geophysical data. We have incorporated it into our ground-modelling to support better and informed decision-making. It reduces the number of CPT's required to build the ground model for an offshore wind farm.
Innovative coring to derisk project sites with shallow bedrock
Fugro's SEADEVIL® coring system is an innovative wireline coring system capable of acquiring SQ-sized core samples in competent rock formations without the need to mobilise a dedicated coring rig.  The SEADEVIL® has successfully been used to acquire high quality CPT's, soil and rock samples from a single borehole at multiple sites across Europe and has demonstrated higher weather workability compared to conventional coring solutions.
Enhancing offshore laboratories to accelerate final deliverables
Our enhanced offshore laboratory can be mobilised quickly to conduct standard onshore testing onboard a vessel, rather than onshore. The advanced laboratory testing scope can then begin as soon as the samples arrive back onshore. Using the mobile laboratory can accelerate the delivery of the final geotechnical reports by up to six weeks, while also adding valuable new information and insights to the project.
Digital data delivery in near-real time
The average offshore wind project today generates a Geo-data volume of around 30 Tb. As a result, time spent on data management activities has increased significantly, especially when multiple teams are working on a project. VirGeo®, our cloud-hosted, web-based Geo-data engagement platform simplifies access to geospatial data and documents throughout the offshore wind farm life cycle. Users can benefit from secure access and robust version control of real-time, integrated data types. Recent functionalities added to the system include automated ground modelling and engineering.
Fugro SEACALF® MkV Deep Drive® - seabed CPT system with enhanced soil penetration capacity
Conclusion
The application of innovative technology combined with smarter scope optimisation can lead to accelerated project schedules and reduced project risk for turbine foundations. Streamlined data acquisition is crucial for reliable foundation designs. Challenges arise from larger, complex wind farms and emerging technologies. Fugro's innovations, including advanced tests and seismic techniques, demonstrate a commitment to progress. With a proven track record, we support global industry growth through tailored scoping and innovative technologies, driving towards a sustainable energy future.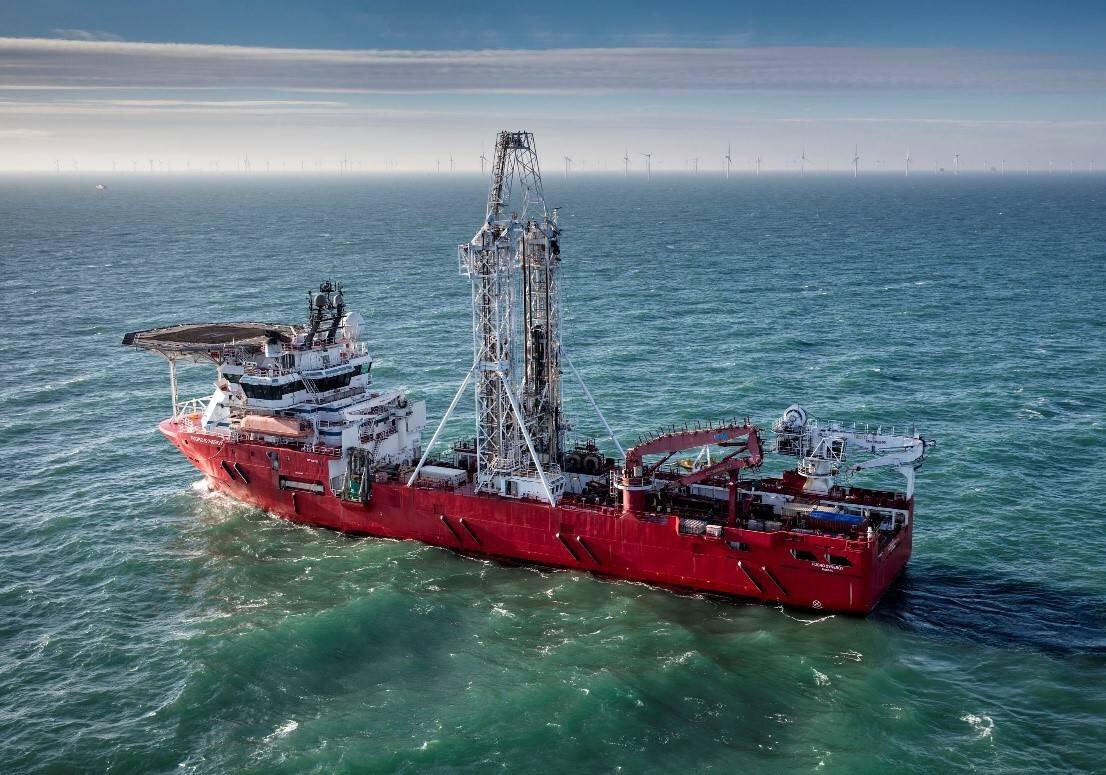 Expertise
Foundations and geotechnical services
Get crucial information about the conditions and hazards at your site. With our foundations and geotechnical services, you'll build foundations that last.
Find out more