Thought Leadership
Reducing uncertainty, managing risk and unlocking design-phase value with Fugro's Geo-Risk Management Framework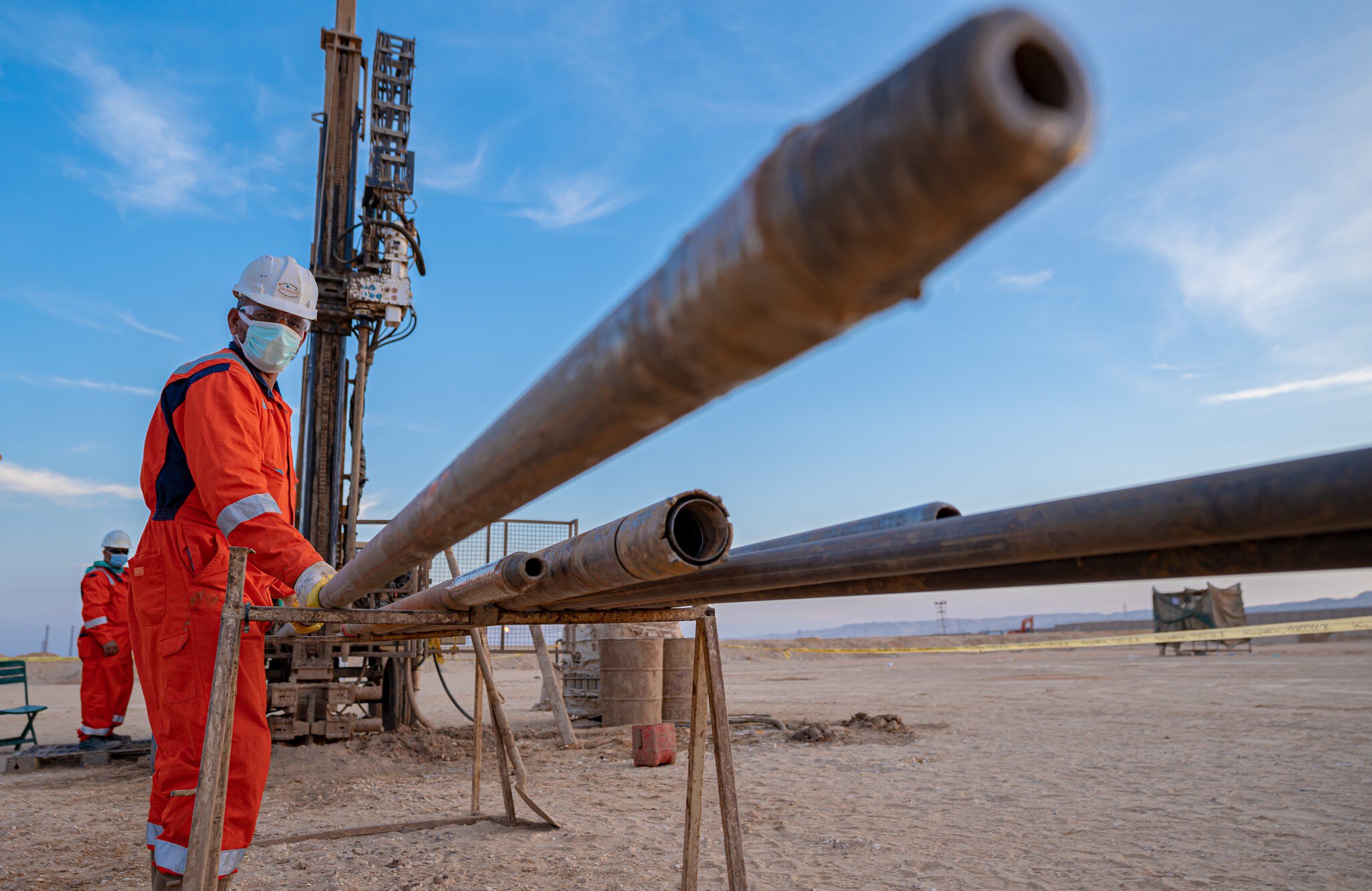 When developing new assets or infrastructure, early and thorough preparation is vital to avoid delays and increased costs. The key to effective preparation is to properly deal with uncertainty in the ground, to avoid unwanted outcomes. Fugro's Geo-Risk Management Framework (GRMF) provides a starting point to tackle this all-critical factor. We talk to Tom Willoughby, Strategic Sales and Marketing Manager (UK), about how our GRMF can help clients meet the current demand for energy and infrastructure projects.
What are the current market challenges for ground engineering?
With drivers such as energy security and net zero targets, clients are keen to push forward as quickly as possible with infrastructure delivery, in an innovative way. Construction is facing shortages of labour and equipment, with on-going global supply issues due to post-Covid recovery, the war in Ukraine, and the on-going impacts of Brexit. We need to identify project critical success factors, and deliver on these in a way that challenges norms but delivers the confidence required.
The challenge for the geotechnical sector is how can we carry out the subsurface investigations vital to these major projects with the required quality and in the right timeframe, while bridging the gap in equipment and technically skilled people?
Recognising our extensive global network and comprehensive inhouse capabilities, Fugro is also tackling today's challenges of programme delivery through our GRMF. One area of the framework reduces time pressures on project schedules by using ground characterisation data from non-intrusive geophysical techniques as part of a screening solution. Followed by an optimised convention investigation, the resulting integrated site characterisation can lead to less time, less cost, a smaller carbon footprint and reduced exposure to operational risks for field staff.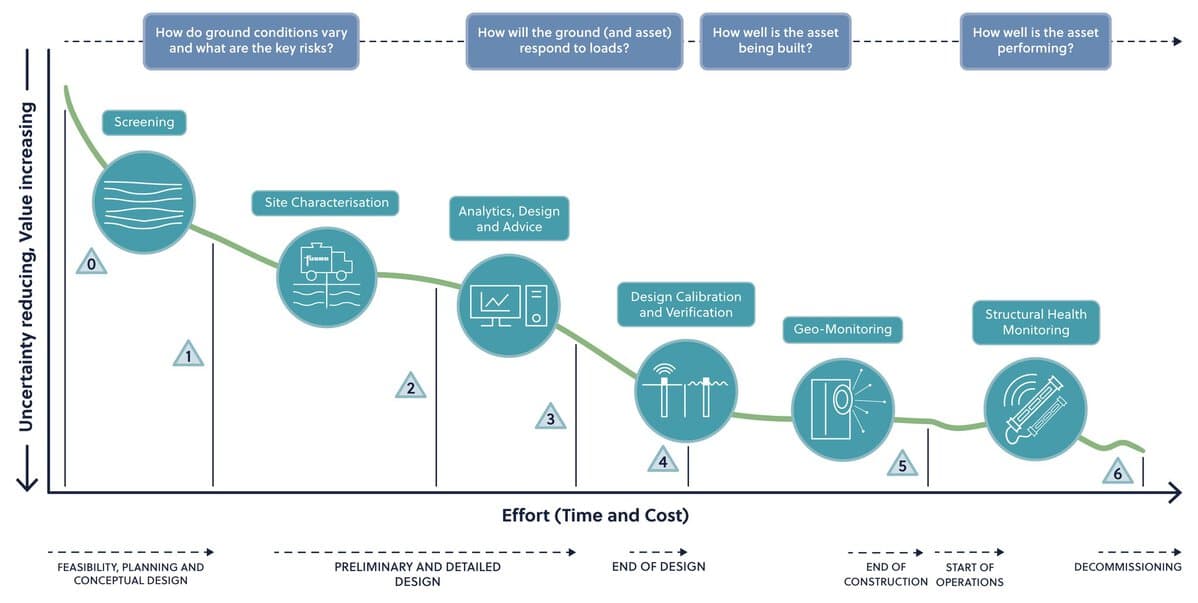 Geo-Risk Management Framework (GRMF) The graph represents the uncertainty and effort associated to a project's life-cycle, with the 'deltas' representing delivery points and information interfaces that present both challenges and opportunities.
Why is it important to engage early on the site investigation?
As experts in subsurface risk, we need to sit down at project concept to understand the client's engineering business objectives (end games) and devise a time/quality/ cost equation to quantify subsurface risk and move the project forward. The major burden of ground risk is at the beginning where it impacts design, so it is imperative to fully understand and quantify it in a site-specific sense. In the absence of sufficient, robust, qualifying ground data, you could end up over-engineering or under-engineering an asset, and both could cost you more money.
Our early phase Geo-data will help inform and evidence competent, cost-effective designs.
"Fugro's GRMF brings benefits throughout the life of an asset, but the earlier we can be involved, the more risk we can mitigate to maximise value for the client."
Tom Willoughby
Strategic Sales & Marketing Manager (UK)
Explain the importance of non-intrusive techniques to the site investigation
In characterising a development site, especially large and complex megaprojects such as nuclear, wind farms, hydro schemes or strategic transport infrastructure, a screening solution, using for example geophysical screening, allows you to understand where your potential ground problems lie before committing to the labour-intensive work of drilling rigs and large borehole programmes.
Fugro not only provides the full suite of site equipment and techniques, but we also consult and advise on the most cost-efficient way to characterise your ground and understand your subsurface risk, along with interpreting the resulting Geo-data.
Through our advanced 3D ground modelling, we can pinpoint problem areas for ground risk to confidently target intrusive techniques. This can potentially reduce geotechnical programmes from 100s to 10s of boreholes.
The proportion of construction budget spent on ground investigations is relatively small. If you invest more in the beginning of the project, you can characterise the subsurface well, thereby reducing uncertainty and better managing ground risk – with benefits to cost and schedule, and as a minimum, with no loss of quality.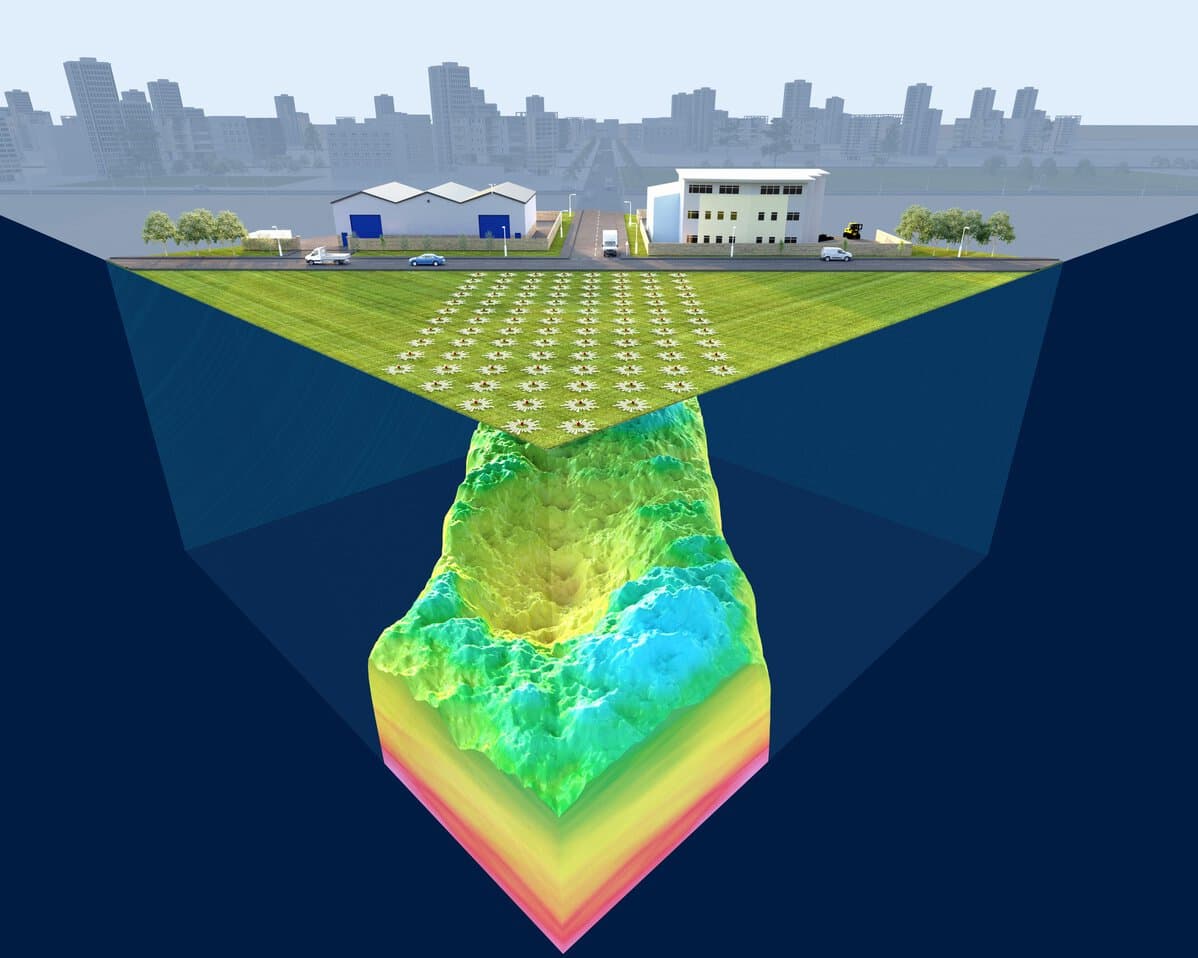 We provide key insights into subsurface properties and structures by using Geo-data to create a 3D ground model
How does Fugro achieve cost and time savings on a project?
Our GRMF takes advantage of Fugro's advances in remote techniques that are safer and less labour intensive as well as quicker. Our digital innovation, such as Fugro's cloud data delivery platform, also allows rapid sharing of insights - in near real-time.
We can accelerate the foundation design because we are able to assess the subsurface risk much more quickly and with greater certainty of outcome. We can deliver better Geo-data and quicker, giving the client and developer a much more accurate understanding of design options, cost and what the programme is going to look like. This gives greater cost and programme certainty at a much earlier stage.
Did you know?
We enabled a 75 % reduction in boreholes and 50 % reduction in design inputs on a mega infrastructure project where the client was looking to accelerate the construction programme. Using a quickly mobilised programme of non-intrusive geophysical investigations, we accurately targeted boreholes in those areas where our 3D Geo-data modelling had pre-screened risk. The reduction in drilling rigs and boreholes saved costs and time while relieving carbon footprint and site safety management, with real time data supporting faster design decisions.
About the author
Tom Willoughby is a Strategic Sales & Marketing Manager (UK)