Innovation
Digitising for a faster and more reliable marine CPT Geo-data stream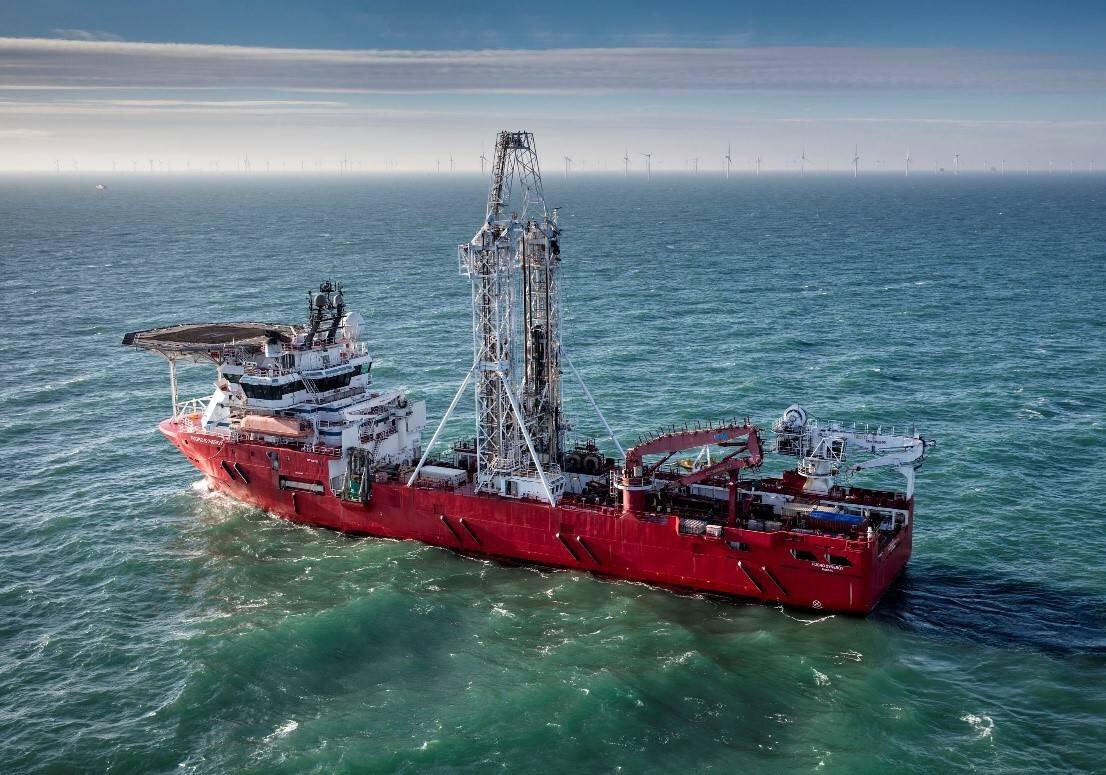 Fugro's newly digitised marine cone penetration test (CPT) workflow provides secure access to validated marine site characterisation information within 60 minutes of acquiring the Geo-data, compared to the norm of up to 24 hours. The new synchronised, on-premise and cloud-based CPT dataflow process enables faster, more informed decision-making, enhances collaborative working and reduces project risk.
The project milestones for offshore wind farm developments are becoming tighter and more challenging. The annual number of new offshore turbine installations is predicted to rise to around 15,000 by 2030.
CPT Geo-data – on the critical path
Site-specific soil data is on the critical path for offshore foundation design and turbine manufacture. Delayed access to CPT Geo-data or the downstream use of superseded versions can result in unoptimised foundation design and create significant financial and scheduling risks. Given the rapid uptake in the offshore wind market, we optimised our CPT Geo-data workflow.
We now automatically link the flow of CPT Geo-data from acquisition, through processing and validation, to our cloud-based delivery platform Virgeo®. This integrated approach means that CPT Geo-data is available in Virgeo® within one hour of acquisition. Clients are notified automatically, so can quickly view and access the data and start using it in their ground modelling and foundation design processes.
The status of all relevant data is always visible to all parties. Once our geotechnical engineer has performed a quality check and provided final approval, the status is automatically updated to 'completed' (including in the delivery portals) and an email notification is automatically sent to the project team. Rapid access to accurate, up-to-date data is a game-changer for our clients because they can make informed decisions more quickly with a positive impact on their project schedule.
Multiple benefits
Our new approach has many notable advantages, including:
Faster delivery of validated CPT data at scale – we stream validated CPT Geo-data within one hour of acquisition… and sometimes within 15 minutes (the norm is between 12 and 24 hours);

Secure storage – all information is safely stored in our cloud-based central vault;

Remote access – clients can set permission levels for viewing and/or downloading files within their organisation. Client project teams can access the latest Geo-data from anywhere and at any time;

A single source of truth – problems associated with version control and organising the distribution of large datasets within the client organisation are eradicated because all data is logically organised and available in the cloud;

Automated email notifications – the entire project team is kept in the loop on developments and newly available data. The notifications also dramatically improve status visibility, enabling all parties to gauge progress;

Reduced risk – the latest Geo-data can be accessed from any location. This reduces exposure to the HSSE risks associated with offshore testing.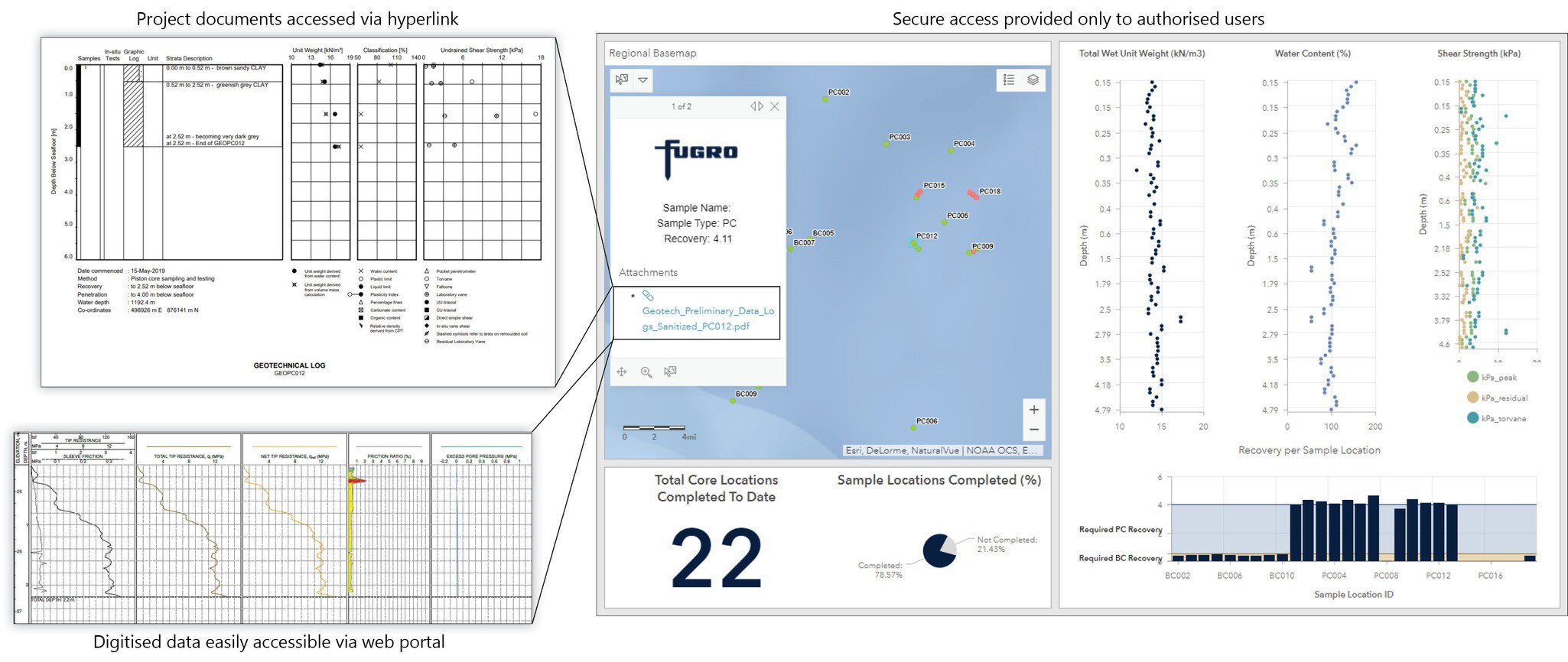 CPT data delivery platform
Global implementation and future developments
Around the world, the new CPT workflow is used by our offshore and onshore teams as their primary tool for CPT data management, processing, validation and reporting. In November 2021, we performed around 2,000 marine CPTs – and 96 % of them used the new, fully digitalised workflow. Our new approach ensures that we deliver the data and insights required at every stage of the client's project life cycle, to support informed decision-making and reduce project risk.
We identified three factors that were critical to the workflow's rapid and successful global roll-out:
Start with the end in mind – we liaised closely with clients to clarify the project outcomes, then made sure that our strategy, programmes and solutions all stemmed direct from the client perspective and deliverables;

Work iteratively – we trialled new functionalities many times with users and performed small-scale implementations, checking at each stage that our changes delivered the anticipated client benefits;

Support the user – we used feedback from our teams and clients to develop a workflow that was user-friendly, efficient and effective for all parties.
We are continuing to enhance the CPT digital workflow and our three priorities are to expand it to include all our in situ test types; improve the metadata flow, to enable different applications to connect and share data automatically; and enhance the performance and useability of in situ test datasets in the overall geotechnical workflow.
Fugro SEACALF® MkV DeepDrive is a state-of-the-art seabed CPT system with enhanced soil penetration capacity for fast acquisition of deeper and high-quality CPT
Did you know?
By 2030, new wind turbine installations may rise to more than 15,000 a year

CPTs are generally conducted at each individual wind turbine generator's foundation location

Offshore wind farms can be the size of small cities, so require hundreds of tests to derisk the design and installation of wind turbine generator foundations

A marine CPT can be performed 60 m below the seafloor in one go
About the author
Martijn Klein is the Principal Advisor for Geo-data Digitalisation Marine Site Characterisation