Swissgrid boosts efficiency using 3D power grid model
Switzerland
Project duration
Switzerland
Our 3D model of Switzerland's transmission power network and its surroundings is enabling the national grid operator to maintain a secure supply, because it can now detect line problems before they become critical and take appropriate preventive measures. It makes network maintenance, construction and servicing more specific and efficient and provides the digital foundation to build a utility that's fit for the future.
Life cycle
Planning, feasibility, conceptual design
Operations and maintenance
Show full process
125 substations construct the Swissgrid AG power network and
Swissgrid AG is the national grid operator responsible for planning, dismantling and replacing Switzerland's entire transmission grid infrastructure.
The power network comprises 380 kV and 220 kV lines that are owned by Swissgrid. The lines extend for 6,700 kilometres, with 12,000 pylons and 125 substations.
Demands on the grid
In recent decades the demands on the grid have changed, with the introduction of new energy sources and power plants, as well as growth in Switzerland's electricity consumption. The country is also an important electricity hub for Europe, because of its central location and topography.
Swissgrid needed an accurate 3D model of the network, to help it manage the maintenance and targeted development of the transmission system so that Switzerland would continue to have a secure electricity supply in the years to come.
Unlocking insights from Geo-data
We acquired lidar data and imagery for the entire transmission network – a first for Switzerland – and provided intelligent Geo-data for use in conduction modelling, condition analyses and grid simulations. Our data will be used to provide obligatory environmental and disclosure requirements while also ensuring the safe operation of the network.
Powerline survey
Our latest-generation FLI-MAP® NG helicopter-lidar system was deployed to acquire lidar and image data for the entire high-voltage grid (380 kV / 220 kV) and its surroundings.
We processed the resulting data and above-ground objects in the lidar point cloud using automated cloud processing algorithms; classifying them in accordance with Swissgrid's technical specifications. This also included completing a PLS-CADD model of the high-voltage grid and the crossing or parallel third-party lines.
PLS-CADD software was also used to apply clearance calculations to all objects, ground and vegetation within the corridor – this enabled Swissgrid to simulate a broad variety of environmental and line operating conditions, and to detect problems.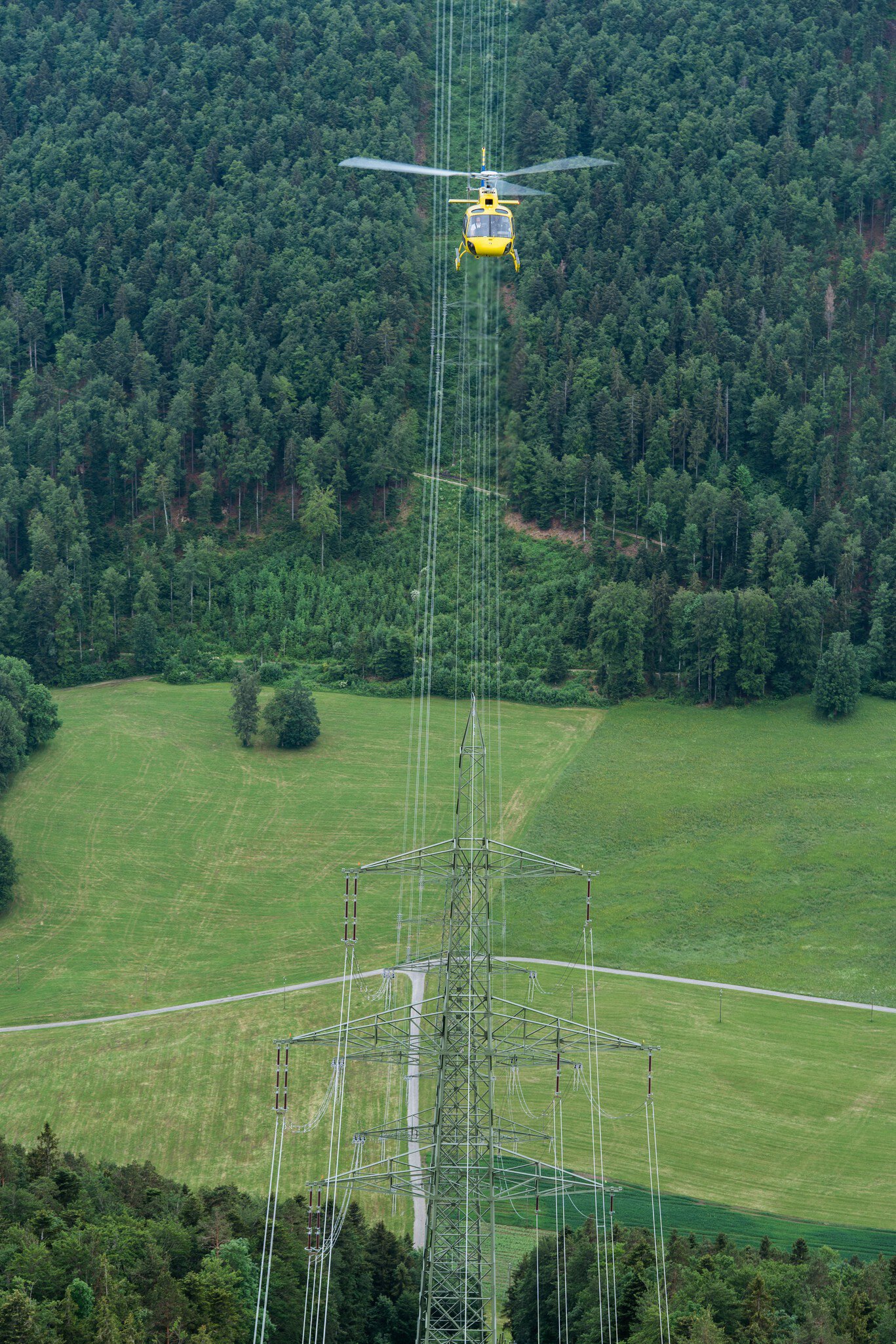 Used technology
Fugro ROAMES®
Fugro ROAMES®
Fugro Roames® delivers a powerful 3D real-world environment of your powerline network, enabling you to asses, monitor and maintain your network effectively and efficiently to optimise powerline performance and reduce risk.
Project challenges
The mountainous Swiss terrain and demanding specifications made for a challenging operation. We acquired the data in stages and flew across the entire network within the 18-month project time frame.
Processing the data and modelling the lines revealed many unexpected situations, including incomplete conductor information and difficult tower and cable configurations. However, we maintained clear, intensive, two-way communication with Swissgrid throughout and all issues were resolved. The result was a complete and up-to-date register of Swissgrid's power lines and their surroundings.
"Having up-to-date line data is essential because it enables Swissgrid to identify potential risks, obstacles and environmental effects at an early stage."
Philipp Isler
Head of Infrastructure, Swissgrid
Business benefits
Our Geo-data provide clear and defined business benefits to Swissgrid, including the following:
Makes network maintenance, construction and servicing more specific and efficient

Enables line problems to be detected before they become critical, allowing Swissgrid to take appropriate preventive measures

Allows detailed asset inspections to be carried out from the office, reducing the time and cost of field visits

Identifies potential effects on people and the environment at the planning stage

Facilitates the maintenance of power lines and makes project planning more efficient and transparent

Network-wide data collection makes data available for other projects and provides the digital foundation to build a utility that's fit for the future

Worldwide support