RILA® supporting ProRail with safer track maintenance
The Netherlands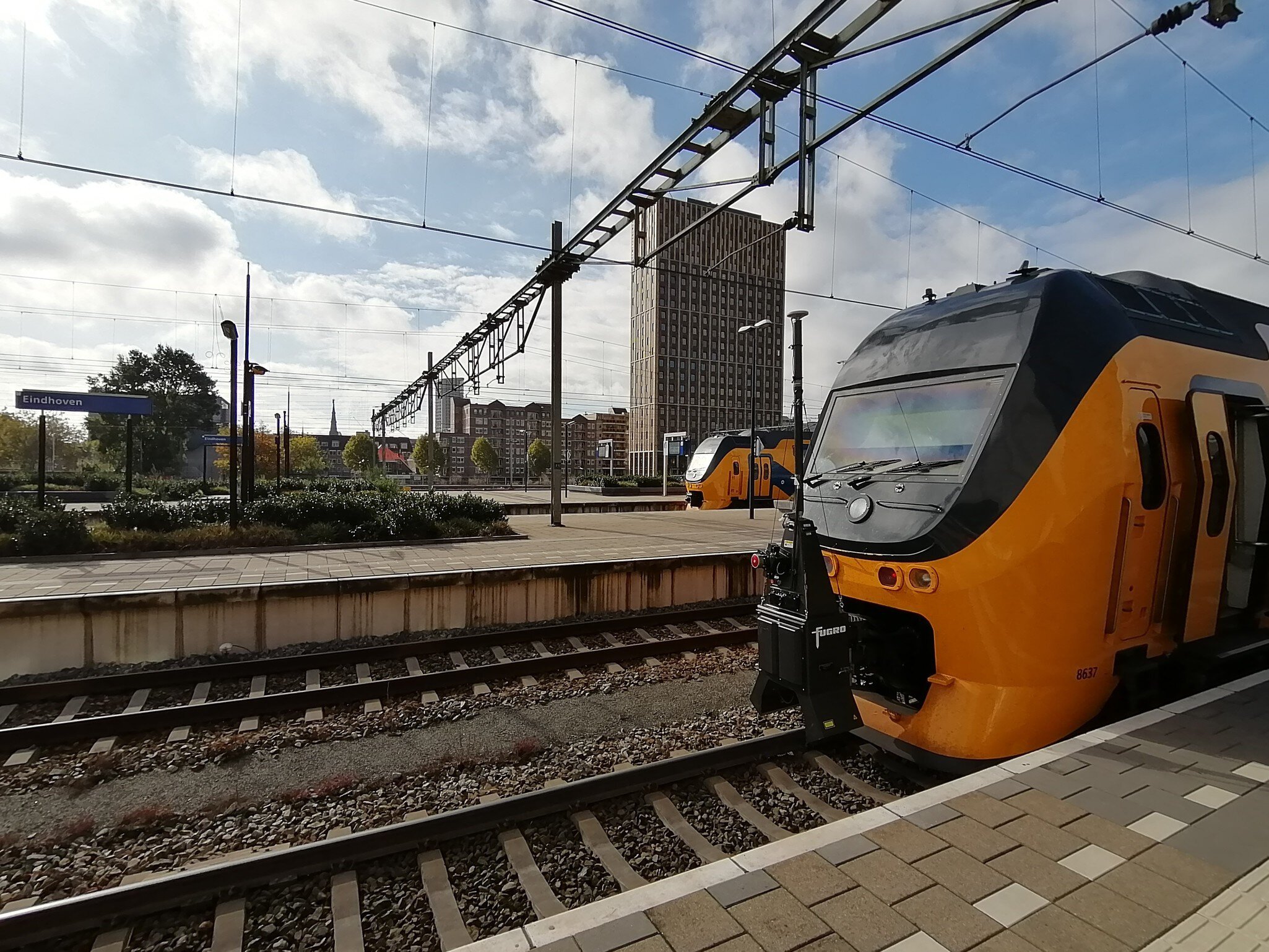 Project duration
January 2017 - February 2022
ProRail awarded Fugro a 4-year framework agreement to survey over 2200 km of track and surrounding infrastructure in the Netherlands to support future maintenance and management of the network. Using our train mounted RILA® survey system, we were able to double the measurement frequency of their full network, reduce CO2 emissions and improve the safety of personnel by removing the need for boots on ballast.
Life cycle
Planning, feasibility, conceptual design
Operations and maintenance
Show full process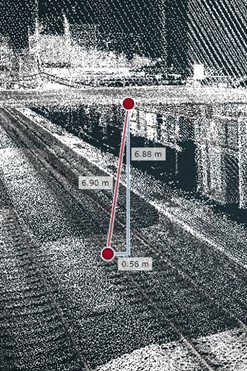 Rila®
RILA®
By creating a digital twin of your network we can deliver a detailed representation of the railway corridor to your desktop 24/7 and replace the need for your own track inspections
Reduction in CO2 emissions
Challenge
ProRail, the government agency that manages the Dutch railway network, was challenged with updating their absolute track geometry system traditionally captured by surveyors on or near the track. They needed a solution that not only provided accurate track centreline information but allowed more track kilometres to be surveyed in a shorter period and within a restrained budget.
Our RILA® technology is a remote, flexible, train-mounted survey system that provides engineering-accuracy Geo-data on the rail corridor, whilst minimising disruption to train services and limiting people on or near the track.
RILA® system mounted on an in-service train
Solution
The RILA® system was fitted to Nederlandse Spoorwegen (NS) trains running on existing train paths and used to collect data of the track and surrounding railway objects. At certain locations, where it wasn't feasible to use NS trains, the RILA® system was fitted to a locomotive. Terrestrial survey equipment was used for the fitting point measurements at the beginning and end of the sub-areas, at discrete locations in the scope and at locations where access was limited and, as a result, the RILA® system could not capture survey data sufficiently.
This data was then integrated into ProRail's reference network. The different datasets were matched in a geodetically responsible manner and integrated into ProRail's reference network to ensure the creation of one homogeneous dataset in the national coordinate system – both horizontal and vertical. This homogeneous set of data meets the quality requirements of the RLN00296, the Dutch rail standard, for track centreline and track-bound objects.
By using the above solution, Fugro was able to deliver the required Geo-data on time and with zero incidents.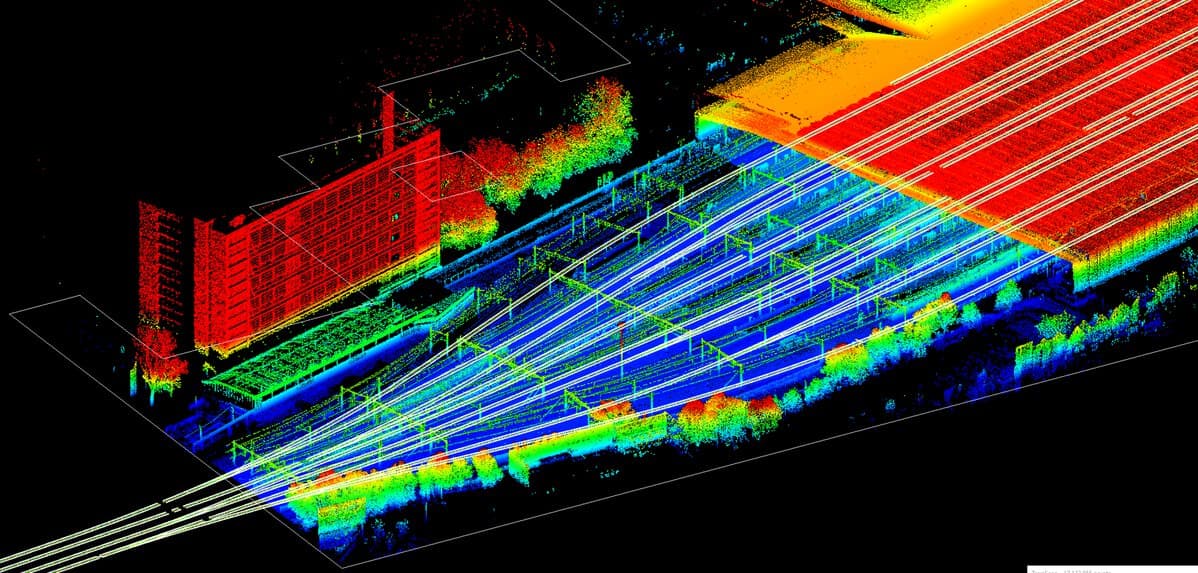 Point cloud data of Rotterdam Central station
Innovative highlight
Our unique RILA® survey system uses global navigation satellite systems (GNSS) and inertial measurement units (IMU) for accurate positioning. It also incorporates a 360° lidar scanner and a 165° camera system to simultaneously acquire lidar point cloud data and imagery of the track and surrounding environment. The data and imagery are captured as in-service trains run along the route at regular speeds, eliminating any impact on operating performance. Once recorded, the footage is merged, and a digital twin of the track corridor is created.
This digital twin is a dynamic 3D real-world model that highlights the position and condition of the track and any object in the railway corridor, based on absolute and relative track geometry.
The end result is an accurate, absolute XYZ model of all the objects in and around the track corridor.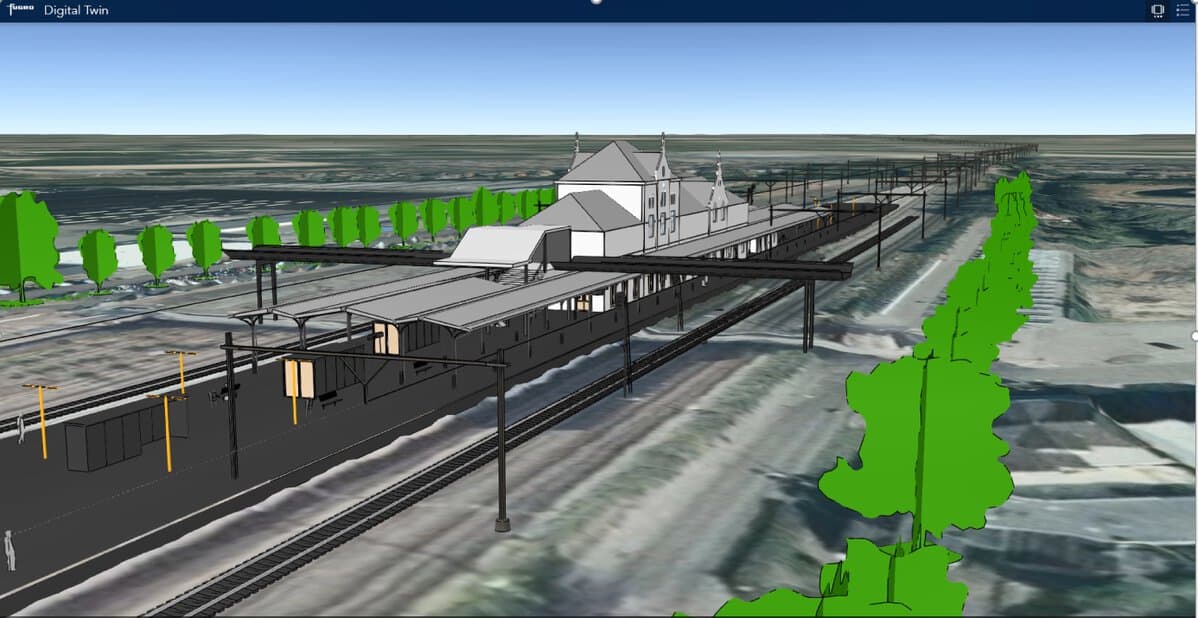 Point cloud data and imagery is used to create a digital twin of the Geldermalsen station
Impact
The speed of Fugro's train-borne survey solution versus traditional terrestrial survey methods allows ProRail to survey their full network more regularly and cost-effectively. With regular updates, ProRail's database can be validated every 3 to 5 years, rather than every 10 years, supporting future maintenance and management of the network.
Moreover, the use of in-service passenger trains reduced boots-on-ballast by more than 80 % and, by negating the need for dedicated survey trains, carbon emissions were reduced by 45 000 kg.