RILA® Digital Twin helps Banedanmark create railway of the future
Denmark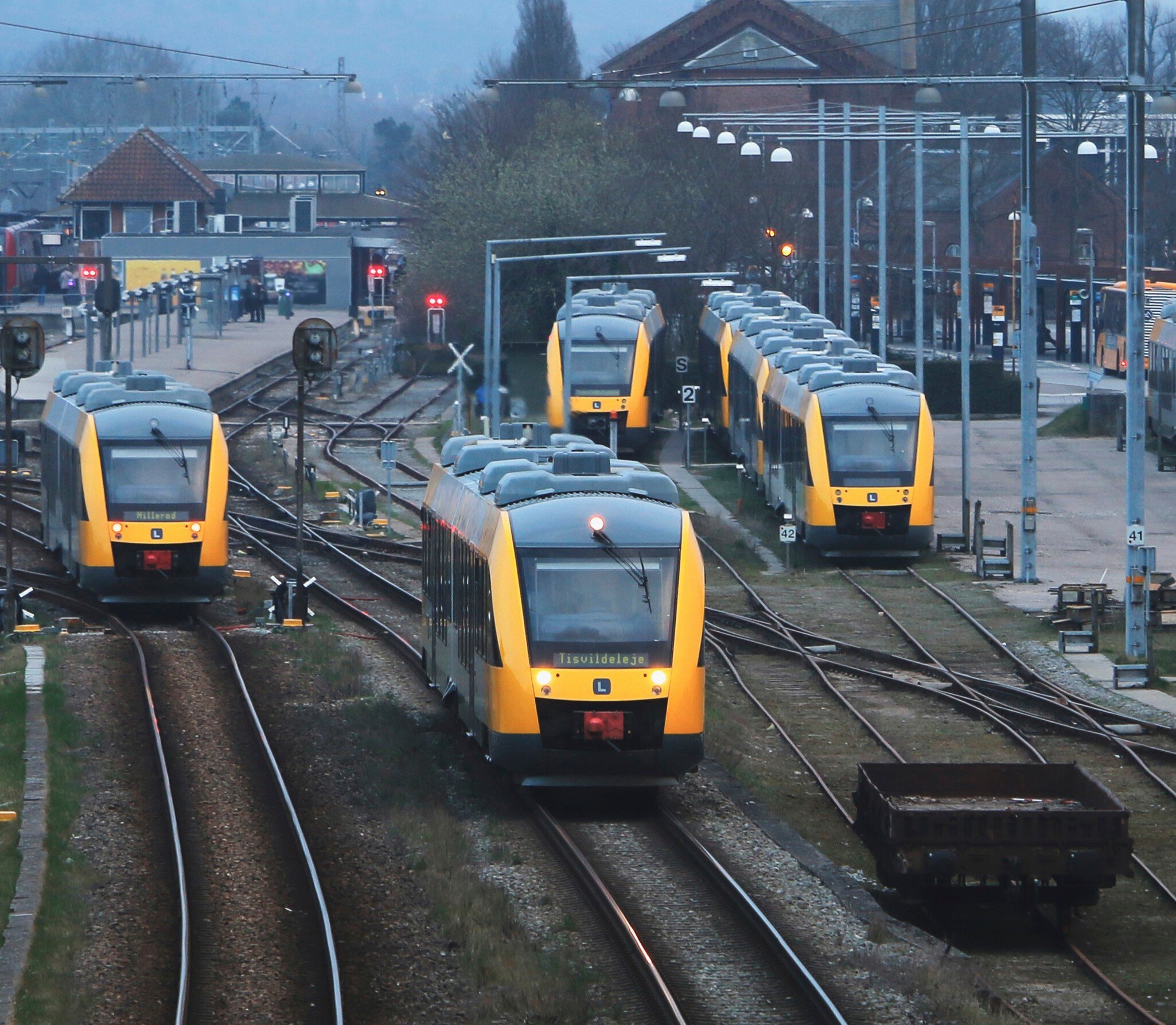 Project Duration
August 2019 - December 2024
Banedanmark's priority is to keep Denmark's railway safe and on time, which requires accurate data of the track and any objects in the rail corridor. Fugro's unique RILA® train-borne survey technology is being used to create a highly accurate, information-rich model of the railway's infrastructure that will support future maintenance and network management.
Life cycle
Planning, feasibility, conceptual design
Operations and maintenance
Show full process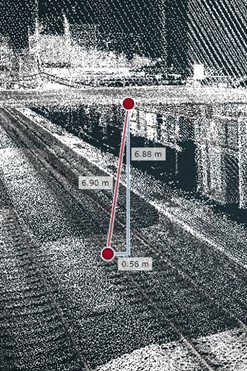 RILA®
RILA®
By creating a digital twin of your network we can deliver a detailed representation of the railway corridor to your desktop 24/7 and replace the need for your own track inspections
Required for our RILA® system to scan the entire mainline Danish rail network
Challenge
Banedanmark manages Denmark's public railway infrastructure and is responsible for maintenance, traffic control and development of most of the Danish railway network, covering over 3000 km of tracks. Under a framework agreement, Fugro's unique RILA® train-borne survey technology is being used to create a highly accurate, information-rich model of Denmark's railway infrastructure to help Banedanmark maximise safety and efficiency on their tracks.
Solution
Our RILA® 360 measurement system incorporates two 360° lidar scanners and a panoramic camera system to simultaneously acquire lidar data and imagery of the track and surrounding environment. We mount the system on a locomotive supplied by Banedanmark and can survey the entire Danish rail network in just 20 to 25 days.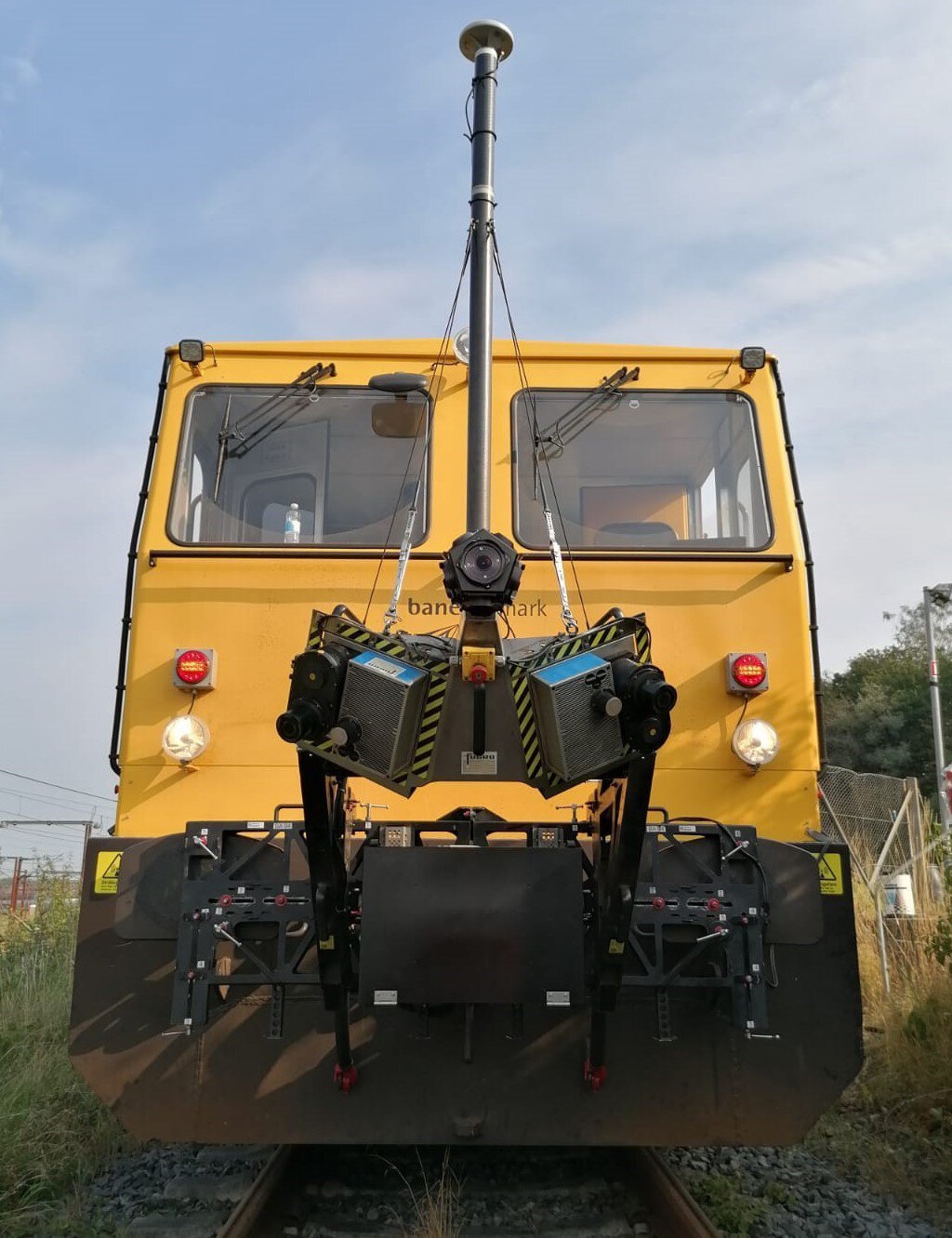 RILA® 360 train-borne survey system with two 360° lidar scanners and a panoramic camera
To provide an immersive view of the track corridor – a so-called 'digital twin' – the video footage is positionally merged with the processed lidar point cloud. We classify the lidar data into feature classes such as rails, sleepers, vegetation, ground etc., and clearance information is extracted and imported into Banedanmark's proprietary UTRUM software.
Banedanmark's maintenance departments use these information-rich datasets for applications including:
Vegetation management along the tracks and catenary systems to ensure trains can pass safely and maintain the accepted safety distance to specific parts of the catenary systems

Track maintenance to assess the need for ballast supplements prior to maintenance; for example, tamping operations, and to identify the locations of break- and edge-points and the slope of the embankment in the ballast profile of the track from ditch to ditch

Identification of the overhead contact systems, extracting information from the lidar data on the location of the catenary masts, contact and catenary wires, return conductor and line feeder. Even the height of the contact wire over the track centre line is reported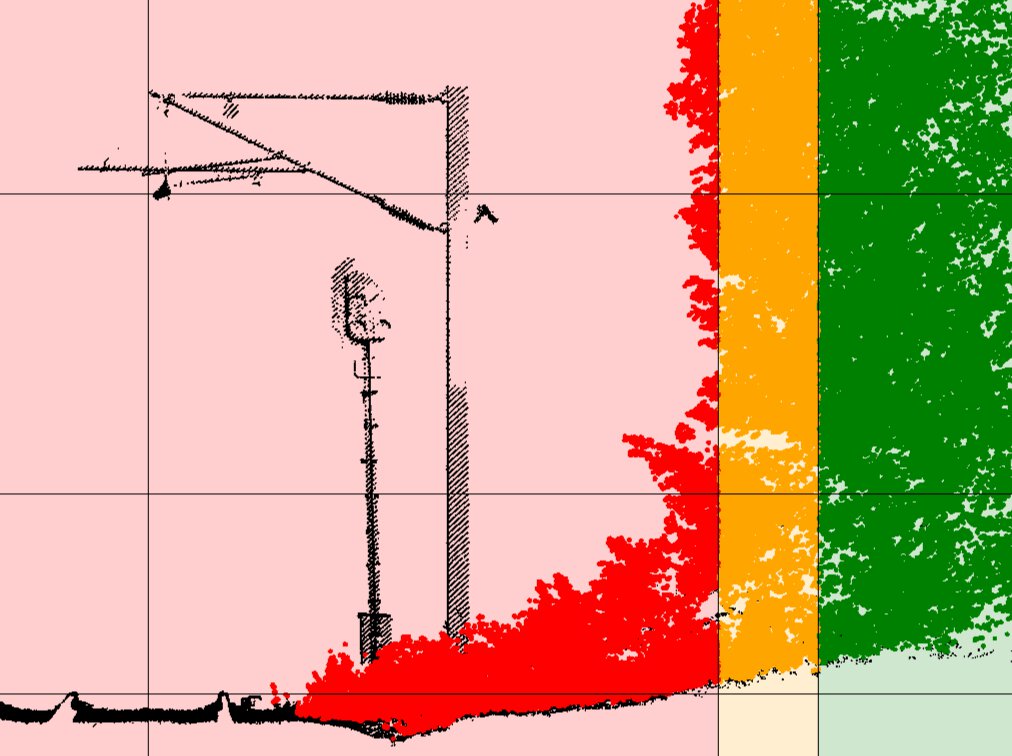 High density lidar data enables vegetation control to ensure that trains can pass safely
Innovative highlight
Banedanmark had always used terrestrial methods to complete network infrastructure surveys so the use of train-borne survey systems, acquiring lidar data via a mobile platform, is ground-breaking. Fugro's innovative RILA® solution will reduce the need for on-track surveyors and should provide accelerated data capture.
"The data that Fugro delivers will enable our teams to supervise the structure gauge and improve infrastructure maintenance predictions. All in all, it will help create the railway of the future."
Charlotte Lomholt
Project manager, Banedanmark
Impact
The RILA® 'digital twin' improves network safety by enabling Banedanmark to detect any objects within the rail corridor that conflict with the passing clearance of a train and perform clearance gauge mapping.
RILA® coverage in Denmark
The speed of train-borne versus traditional ground-based survey means that the network can be surveyed more regularly and cost-effectively. More regular updates allow Banedanmark's asset database to be validated every 3 years rather than every 5 years, supporting future maintenance and management of the network.