Digitalising Western Power Distribution's vegetation management
United Kingdom
Client
National Grid Electric Distribution (NGED)
Western Power Distribution (WPD) partnered with Fugro to modernise their vegetation management processes. By analysing and presenting their lidar data in Fugro ROAMES®, our virtual world asset management technology, we were able to deliver insights quickly and at scale. The results allowed WPD to conduct vegetation maintenance work more efficiently and monitor their network proactively.
Life cycle
Planning, feasibility, conceptual design
Operations and maintenance
Show full process
Challenge
WPD delivers electricity to 8 million customers over a service area of 55,500 square kilometres in the UK. Vegetation management is one of their main operational expenses and as a result, they have been working to identify the most efficient, precise and economical solution to enhance their vegetation strategy.
Since 1963, WPD's helicopter unit has visually inspected their network to identify and address defects before they become faults. To manage potential issues, WPD also relied on contractors to physically inspect the network and then cut the appropriate trees after obtaining landowner consent. However, the company wanted a digital solution to monitor contractors' service delivery and ongoing network needs. By using Fugro ROAMES® to process, analyse and present their data, WPD could issue instructions to contractors with minimal delay from capture.
Electricity provided by WPD
Used technology
Fugro ROAMES®
Fugro ROAMES®
Fugro Roames® delivers a powerful 3D real-world environment of your powerline network, enabling you to asses, monitor and maintain your network effectively and efficiently to optimise powerline performance and reduce risk.
Solution
We engaged with WPD to help modernise the company's vegetation strategy using lidar data gathered by their helicopter fleet. Together with Fugro Roames®, WPD could identify critical clearance issues such as growing clearances and vegetation intrusions to keep the network safe and operable throughout its life cycle.
Gaining visibility and enhancing decision-making
To implement their improved vegetation solution, WPD had to first modify their helicopters to include the necessary new technology - a digital camera, a lidar system, and computing power. With these modifications, WPD was able to use their helicopter fleet to regularly collect lidar data to send to Fugro for processing and publishing.
The solution enhanced WPD's network visibility and reduced the need to physically patrol their network area. Using the data from Fugro ROAMES®, WPD's team of arborists can also anticipate and proactively plan for future needs.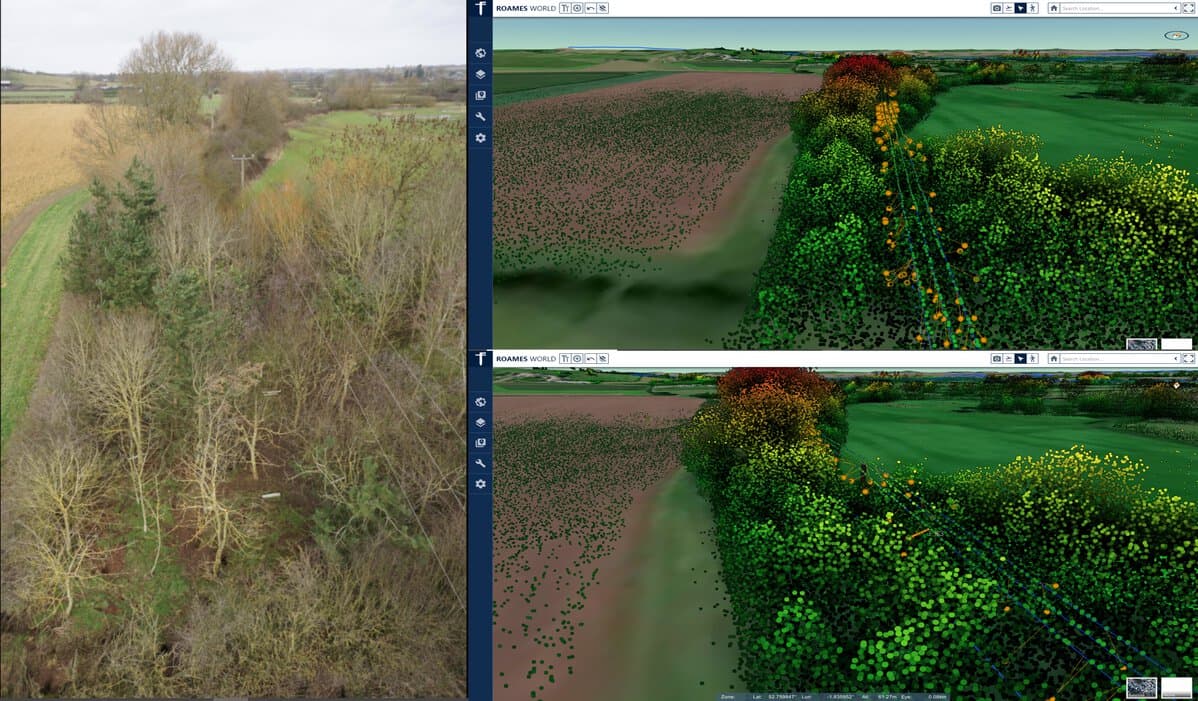 A screenshot of Fugro ROAMES® point cloud data with orange lines and orbs showing vegetation intrusions
Achieving speed and scale on AWS
Fugro ROAMES® processes data using largely automated routines running on Amazon Web Services (AWS). We also use AWS to store data and stream it into a virtual, 3D world that models a customer's network and delivers analytics on critical clearances. To support WPD's goal of accelerating data collection and processing, we had to be able to rapidly process large volumes of data — in WPD's case, around 10–20 TB of raw data per campaign. In addition to this, we were also required to generate analytics within 2-3 weeks, a challenging task without the ability to scale up processing with AWS.

Using AWS, we can host, display, and deliver analytics for the large volume of information that WPD's network produces.
Innovative highlight
There are two key innovative highlights of this project - the integration of onboard oblique imagery and the development of custom analytics within ROAMES®.
Onboard oblique imagery integration
Attached to the WPD helicopter is a laser scanner and three digital cameras which take images to the left and right as well as straight down. These images are geo-tagged and ingested directly into ROAMES® and accessed by the WPD team as a ROAMES® World layer to provide additional context to the health and species of the trees.
Custom Analytics
WPD's strategy is to completely digitise their entire vegetation management program and, as part of this development, they have a specific set of business rules for their vegetation analysis. By working closely with their team, we were able to integrate these rules into ROAMES® analytics to inform their short and long-term strategy plans.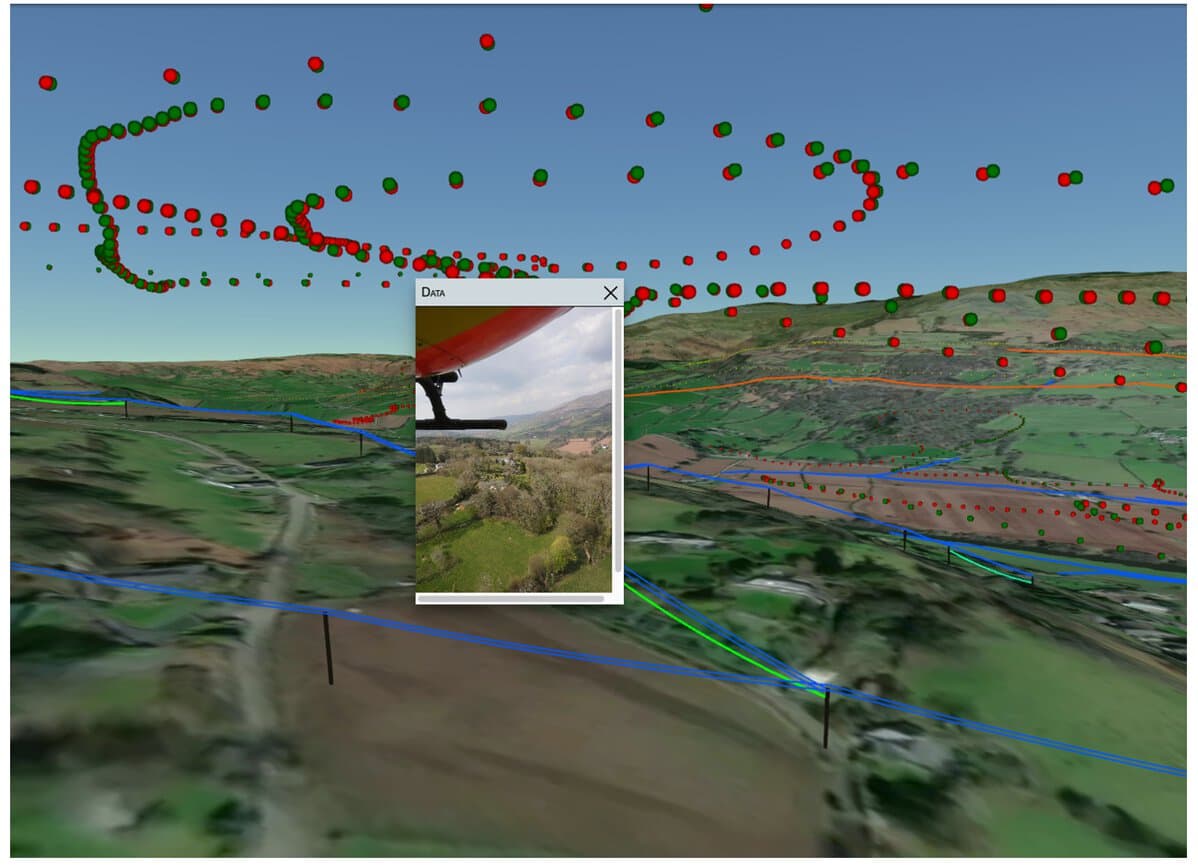 By clicking on a red or green orb, a pop-up appears in Fugro ROAMES® showing the full resolution image captured by WPD helicopters
Impact
WPD previously managed vegetation using a 5-year cycle, contracting maintenance for about 20 % of their network area each year. However, using lidar data delivered on Fugro ROAMES®, WPD can assign work to contractors more intelligently and efficiently, reducing the process to a projected 4-year cycle.
Additional benefits include:
Receiving network-related 3D data and analytics quickly and at scale

Reducing the need to physically patrol the network area

Increasing asset and cost visibility and improving decision-making

Enhancing cost efficiency and reducing environmental impacts

Improving costs forecasting and vegetation maintenance needs
"Fugro delivers lidar data in multiple formats—so we can visualise and target problem areas in our network. The solution enhances our knowledge about the vegetation on the network so that we can make more educated decisions about what to cut and when and where to cut it. "
Robin Tutcher
Accountable Manager, Western Power Distribution Helicopter Unit