Advanced 3D ground model drives A9 Motorway widening designs
Amstelveen, The Netherlands
Project duration
February 2020 - December 2021
The widening of the A9 motorway is complex due to the site's challenging soil conditions. To mitigate risks and reduce driver disruption FCC Construcción required an accurate 3D ground model. Following extensive geotechnical investigations, Fugro integrated, analysed, and delivered actionable Geo-data to inform the motorway widening design and facilitate scenario analysis.
Life cycle
Planning, feasibility, conceptual design
Operations and maintenance
Show full process
VirGeo®
VirGeo®
VirGeo® is our cloud-based information, delivery, engagement and management platform that provides you with a single source for accessing and organising various streams of data and documents throughout the asset life cycle.
Challenge
The Directorate General for Public Works and Water Management (Rijkswaterstaat) is widening a 11 km section of the A9 motorway between Badhoevedorp and Holendrecht junctions. The motorway will be expanded from three to four lanes in both directions and will incorporate a 1.6 km deep cut (open tunnel) at Amstelveen as well as 14 km of acoustic barriers to reduce noise pollution in surrounding residential areas. To mitigate risks and reduce driver disruption during the construction, FCC Construcción required an accurate 3D ground model.
Rapid large-scale soil investigation comprising of multiple drilling activities along the A9 and Geo-data processed via our Virgeo® online platform
Solution
In consultation with our client, we adopted a robust and progressive approach to the site characterisation, allowing us to fully understand the difficult ground conditions and deliver insightful Geo-data.
Our ground investigation included:
1900 new and 400 existing cone penetration tests (CPTs)

100 mechanical drillings

250 hand auger drillings

Extensive monitoring activities and laboratory tests
The results of these extensive geotechnical tests provided a rigorous basis for substantiating the designs of the widening road embankment structure, ground retaining walls, foundations of viaducts, bridges, and noise barriers. While imperative to the project, we now had the challenge of managing and sharing such large quantities of Geo-data with all stakeholders.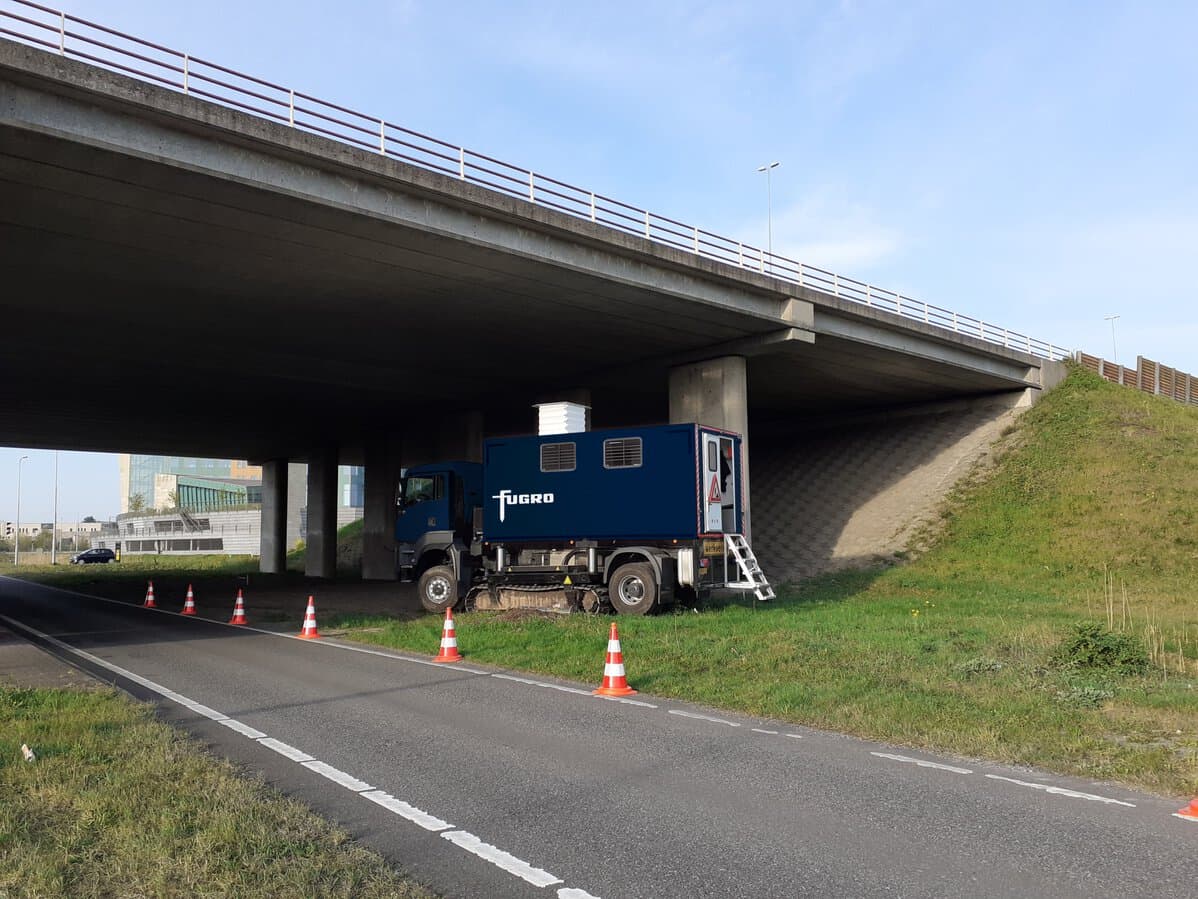 CPT activities
Online data sharing solution
Using our integrated online Virgeo® platform, we were able to process data from the soil investigation while also building in quality control processes. Progress could be viewed by all stakeholders in real-time, with the option to add new datasets for further insights if required.
We used our Geo-data expertise to identify and map the different types of soft soil layers, some barely distinguishable from others, to provide accurate data for design engineering and other site development tasks.
Although interpretation of the CPT results proved complex, the local geological knowledge of our experienced geotechnical consultants supported by extensive laboratory analysis enabled us to digitally process and analyse large quantities of Geo-data and share them quickly with the project team.
Digital twin informs designs
Using our processed data, we then constructed a 3D ground model of the soil profiles. To establish ground level and properly reflect the road structure of the A9, we also integrated the project's topographic height model.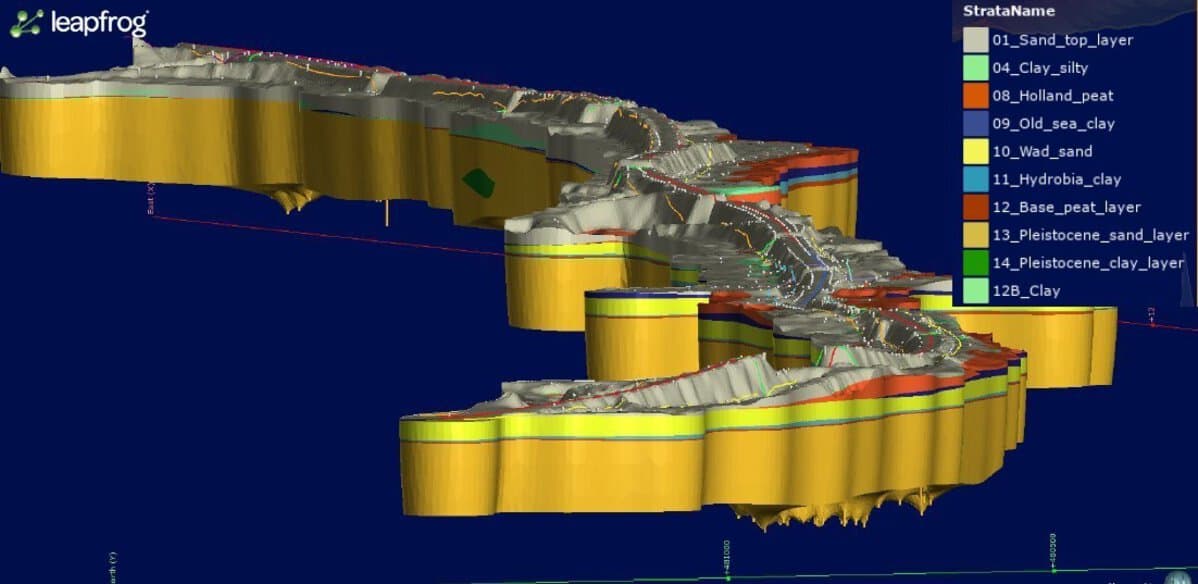 3D visualisation of the A9 soil conditions with animations to flag key data
With this integrated digital twin, the geotechnical design teams were able to view the soil structure at the site of their designs and import this data, including all parameters, in their mathematical models.
The 3D ground model could also be readily imported into the project's Construction Information Model (CIM), to support project management and analysis.
Innovative highlight
Our Virgeo® integrated online platform has supported the geotechnical campaign with the latest Geo-data and progress in the field. Virgeo® has been used for Geo-data delivery to the client. Through the development and application of computer algorithms, we created soil classifications to categorise and interpret all cone penetration tests. The results of these tests could then be incorporated into the 3D ground model, accelerating the delivery of quality Geo-data.
Impact
Our online platform Virgeo® and the 3D ground model solution have given the following benefits for the client and other stakeholders:
The use of the near real-time online Virgeo® platform resulted in around 10,000 less emails throughout the project saving time and improving project efficiencies

One single point of truth of Geo-data reduced risks and design time in case of using out-of-date information

Instant visualisation of the 3D ground model ensured efficient execution of the geotechnical design

Cost savings by potential parametric calculations for the costing and consideration of augmented design options using the 3D ground model

Smooth integration of the 3D ground model with the project's construction information model (CIM) allowed designers to run interference checks to test if foundations were situated in proper soil layers avoiding costly construction issues
"With the advanced integrated platform, Fugro meets our high expectations regarding speed, quality and delivery of Geo-data. Together with the 3D ground model, it leads to time savings when it comes to a reliable geo-database and the designing of the earthworks and foundations."
Carlos Garcia Blanco
FCC's lead geologist of the A9 project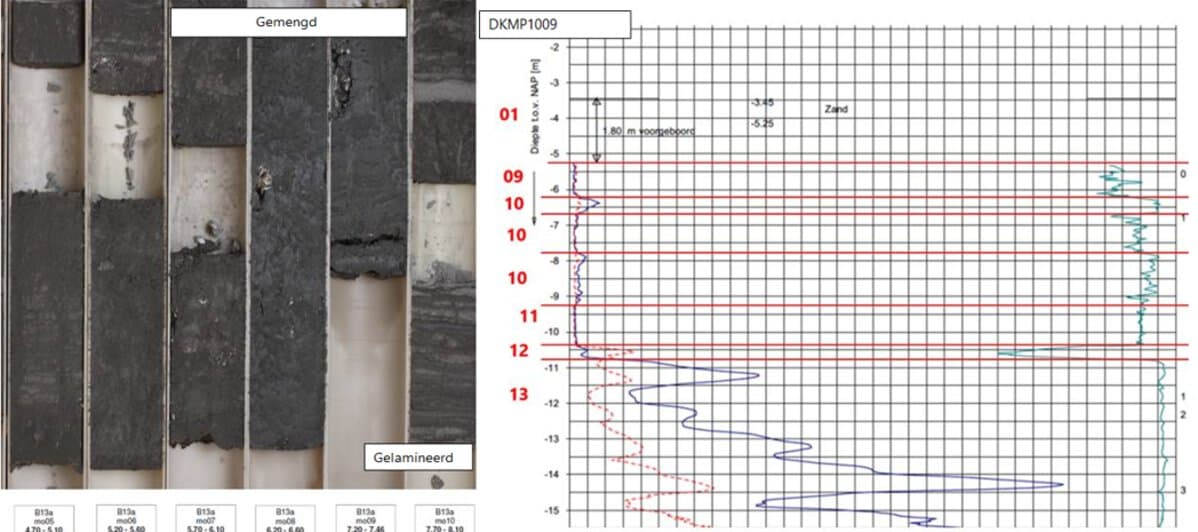 Computer algorithms were used to effectively classify the complex soft soil layers (peat, clay, loose sand) important for the design