First Sea Auk® Mission Powers through Tennet UXO Clearance
Off the coast of Wijk aan Zee (municipality of Heemskerk), the Netherlands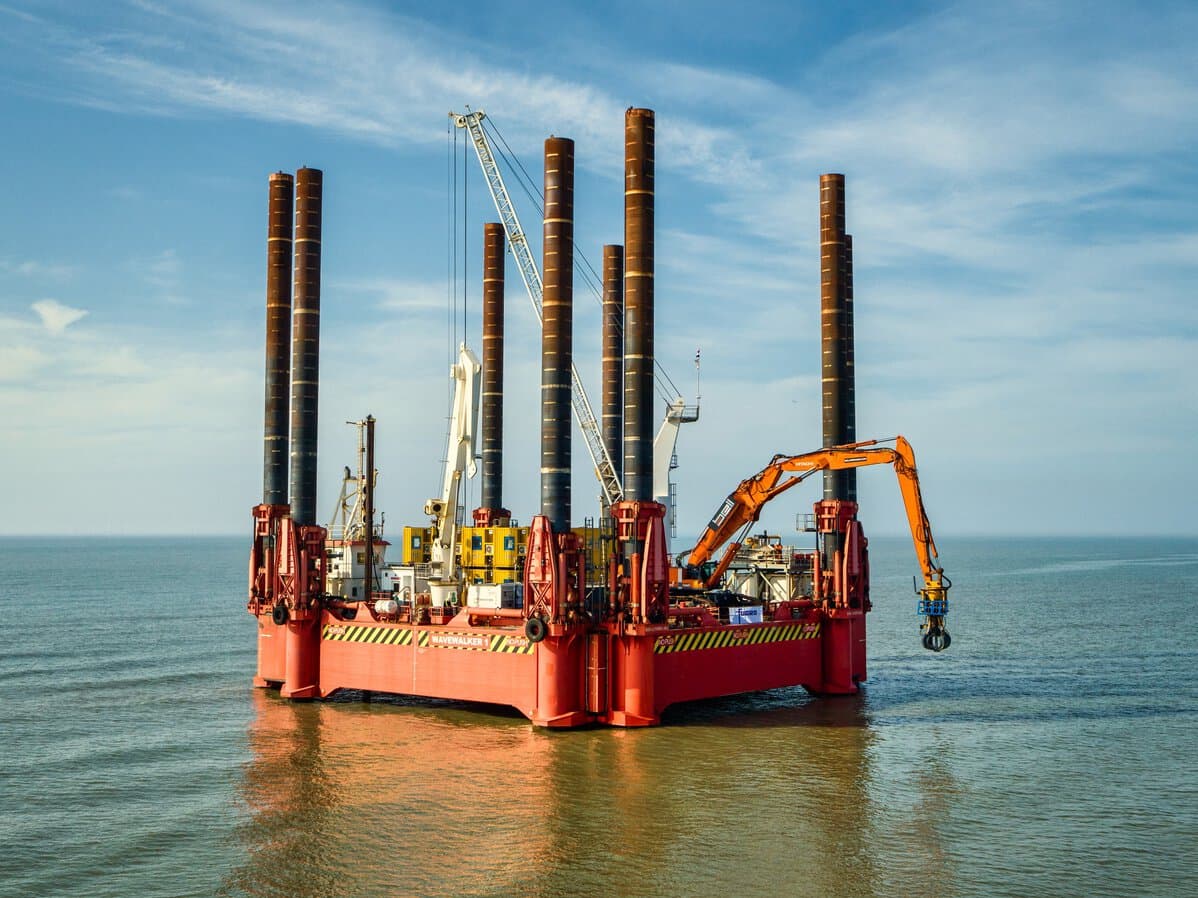 Project duration
1 March - 12 April 2022
Dutch national grid operator TenneT Holding B.V. (TenneT) needed an unexploded ordnance (UXO) investigation in a challenging nearshore location off the coast of Wijk aan Zee in the Netherlands to clear their nearshore cable route. The Fugro WaveWalker 1 platform, combined with our new Sea Auk® shallow water UXO tool, provided the perfect solution.Fugro delivered the geodetic network within a year, using experienced surveyors and state-of-the-art technology, providing MINDCAF with an objective, detailed and scientific network to allow applications such as the measurement and delineation of property parcels and building cadastral maps.
Life cycle
Show full process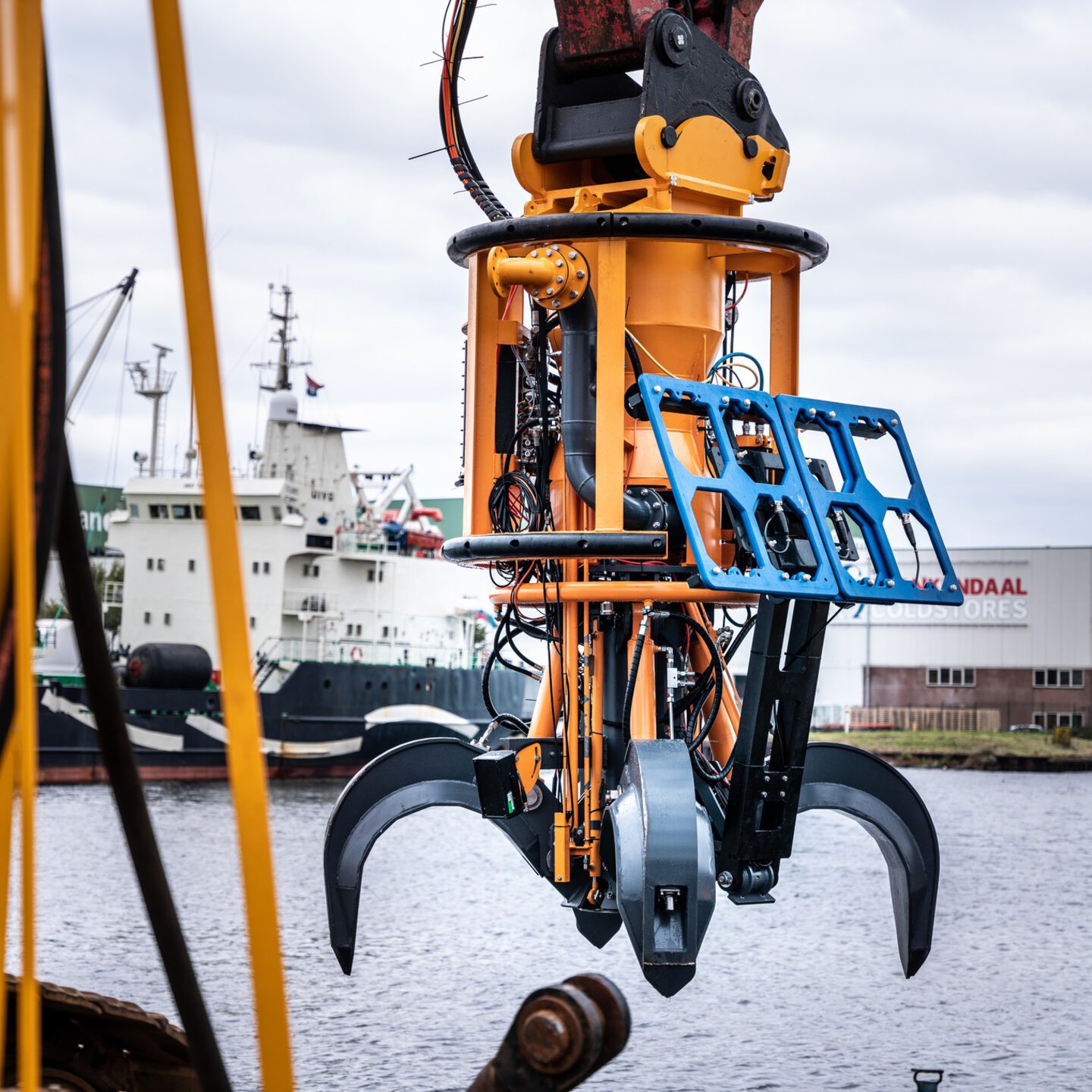 Sea Auk®
Sea Auk®
The Sea Auk® is a shallow water identification and clearance tool for safe mitigation of unexploded ordnance risks.
Challenge
The threat of UXO is present all over the world, caused by wartime activities and post-war dumping of munitions. A serious risk for many marine-related developments globally.
To transmit green energy generated offshore by the future Hollandse Kust Noord and West wind farms, TenneT needed to ensure the seabed was cleared of all objects, UXO among others, so they could safely lay power cables along the seabed. The nearshore tidal location came with difficult conditions of low-visibility shallow water, large depth of burial and adverse winter conditions, which makes UXO clearance nearly impossible for divers and unsuitable for remotely operated vehicles (ROVs). We devised an efficient clearance solution based on unique technology specifically designed for nearshore projects: our WaveWalker 1 dynamic jack-up platform, enabling the spread to relocate between targets without floating, and Fugro Sea Auk®, our new shallow water UXO identification and clearance tool.
Solution
To successfully navigate in the difficult wave and shallow seabed conditions in the surfzone we mobilised our dynamic lifting platform WaveWalker 1, which provided support for the first mission of Sea Auk® out at sea.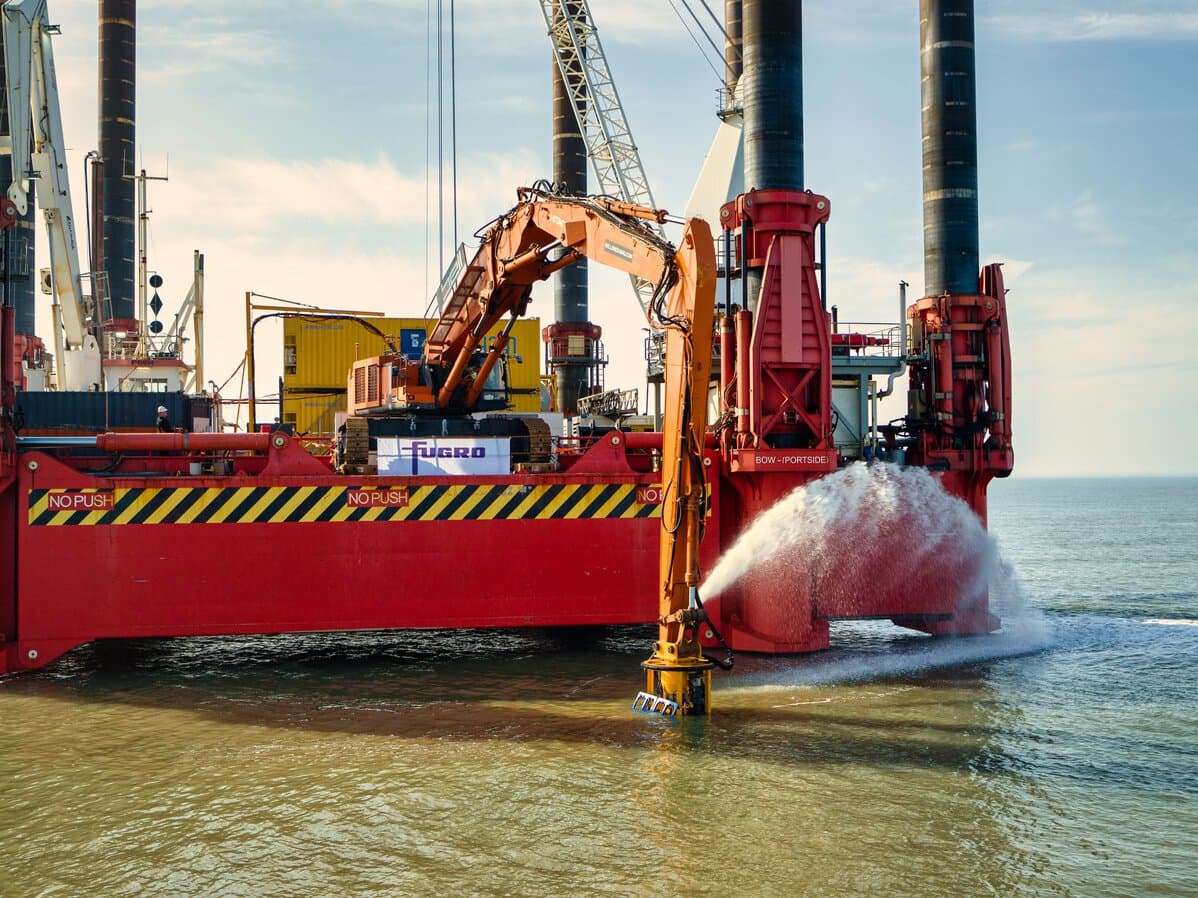 Sea Auk® dredge pump working from the WaveWalker platform
WaveWalker 1 is an innovative self-contained walking jack-up that operates safely and effectively in rough seas, shallow transition zones, and other intertidal locations. Unlike conventional platforms, this unique jack-up can independently "walk" to nearshore project locations, rather than having to be floated, thereby avoiding issues that can reduce uptime such as adverse weather and large swells.
Another advantage over conventional jack-ups is that its eight legs are so far apart that, when excavating objects in the seabed such as UXO, it can withstand any slopes that form in the seabed during the work. The last 4 UXO targets on TenneT's investigation were up to 5 m deep in the seabed, conditions that could cause a normal excavator to tip over.
Innovative highlight
Sea Auk®, our new tool for locating, clearing, identifying and clearing UXO in shallow water, was also key to the project's success. Quick and easy to deploy, the tool attached to the excavator at the end of the WaveWalker 1 platform and used built-in detection equipment to locate TenneT's previously appointed targets. The team on WaveWalker 1 received electromagnetic images of any objects in the seabed; Sea Auk® also relocated deeper targets using a magnetometer. Its water jet and powerful dredge pump exposed objects for the team's identification and inspection via acoustic camera images from Sea Auk®. When identified objects weren't UXO, the large stainless steel claw of Sea Auk® could easily remove them. Throughout the survey the equipment was remotely controlled from a control room in a safe zone onboard the WaveWalker 1, mitigating the impact to offshore staff of an explosion.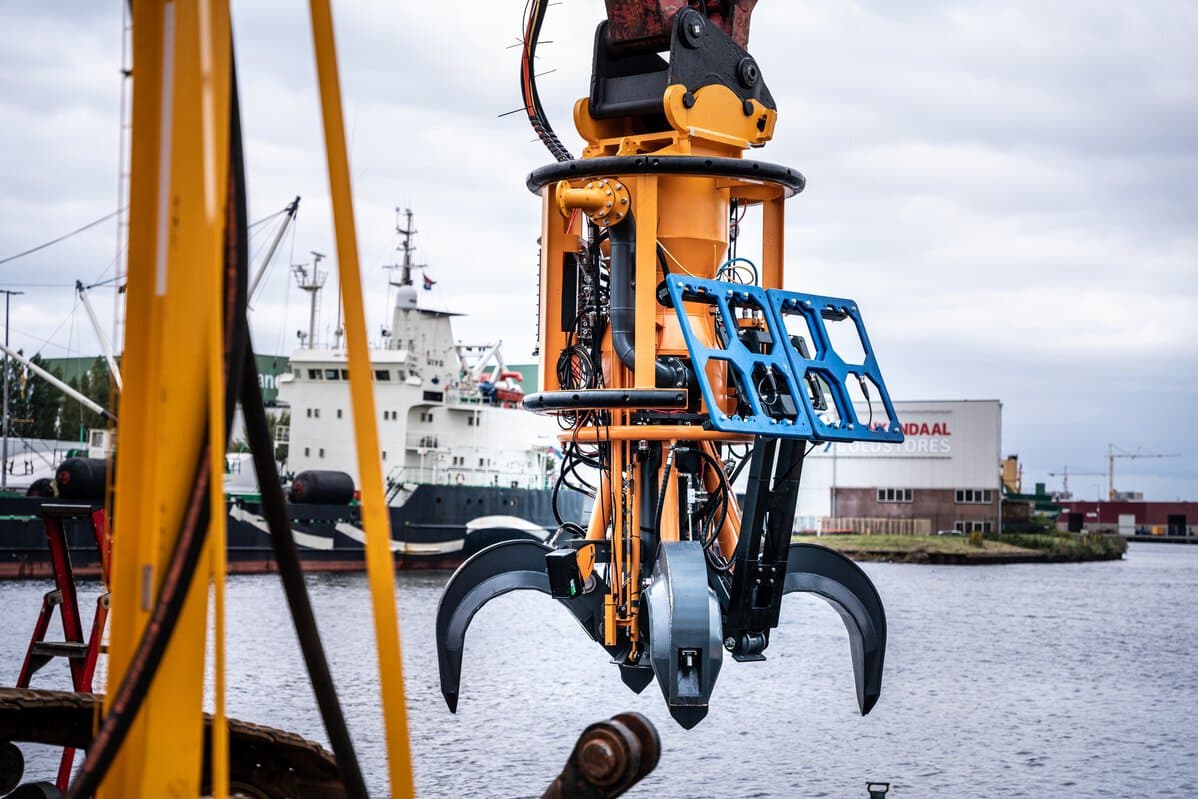 Close-up picture of Sea Auk® UXO ID&C multitool
Impact
Deploying Sea Auk® from WaveWalker 1 proved to be a quick and efficient solution The deep targets (<5 m below seabed) would typically be considered difficult to excavate from the seabed but the operating range and unique design features of both the WaveWalker 1 and Sea Auk® allowed for rapid progress, clearing the five locations on time with ALARP classification (As Low As Reasonably Practicable).
Major time savings due to control over operational schedules and minimal operational weather downtime with the WaveWalker 1

Reduced HSSE exposure for offshore staff with Sea Auk® and excavator fully remote-controlled while working with pUXO targets

Eliminated slope stability issues by using WaveWalker 1 during pUXO excavation/dredging operations to identify targets <5 m below seabed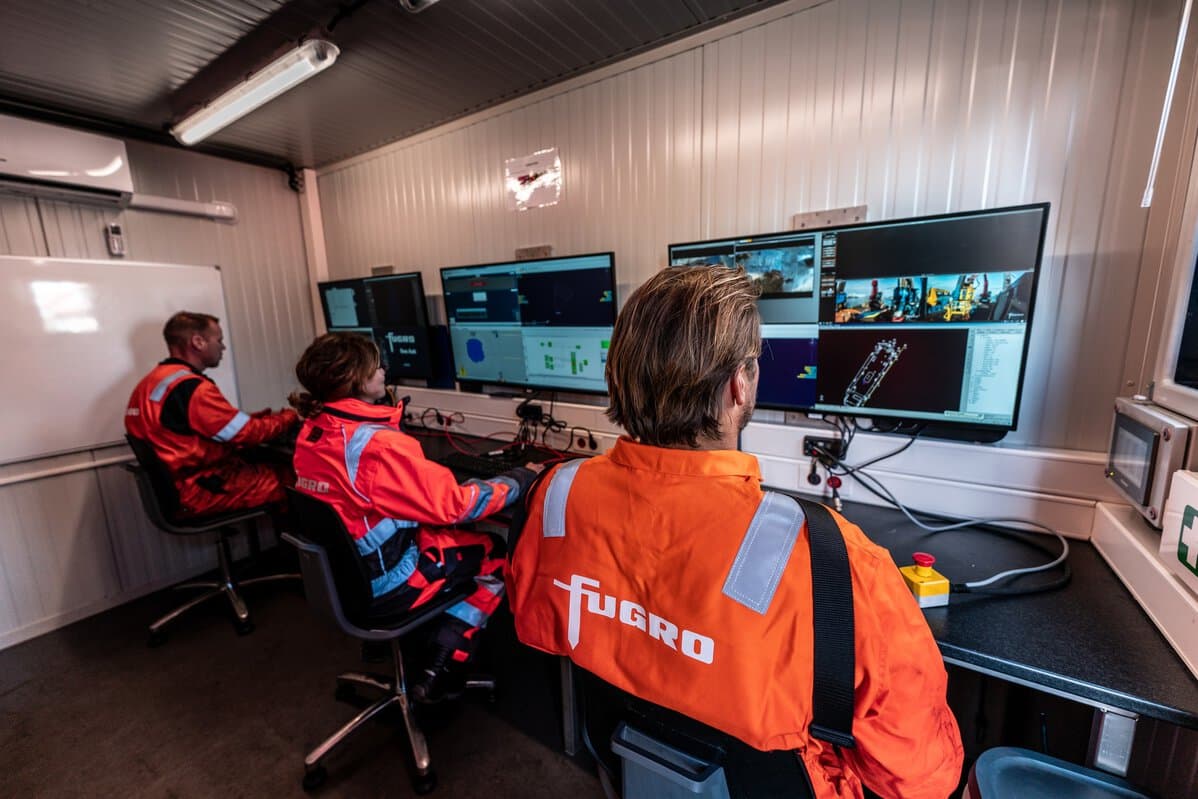 Sea Auk® remote operations
"The UXO investigation on our Hollandse Kust Noord and west Alpha project was completed very successfully. Fugro Sea Auk® combined with WaveWalker 1 has complemented the final piece within the project so we can transport the sustainable produced electricity to land by building transformer platforms in front of the coast. By installing these 'offshore outlets' with four cables in the seabed, the first wind energy will come ashore on this beach as planned in 2023, generating 2.1 GW of renewable electricity for 2.1 million Dutch homes, companies and industry over the coming years."
Robert Koens
Project Manager TenneT